SMALL FARM FOR SALE
Simple Life on a Small Farm
Camp Morton, near Lake Winnipeg, Manitoba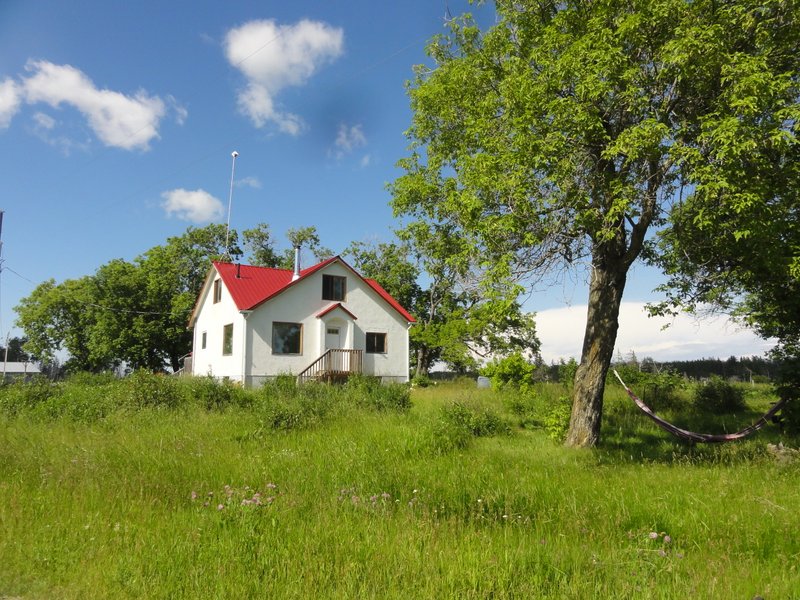 Through no fault of its own we are selling our little farm located in Camp Morton, Manitoba. We have enjoyed this 119.23 acre property for just over a decade, living a simple life together with our family farming. It is situated just 2.5 miles west of Lake Winnipeg, so on hot days we take an hour out of our days to go jump in the lake on a quiet beach. . . or head up a little further north or south to enjoy busier beaches. It also is only 1.25 miles on gravel from Hwy 8, about an hour north of Winnipeg, which has been great for reaching and delivering a greater area with our farm goods.
The completely fenced land, which has been free from chemicals for at least 10 years, is a mix of pasture, forest, and previously cultivated fields that are all protected by cross fences. There are barely any neighbors in sight and the most common visitors are wildlife, from animals that stay here year round to ones that are just passing through, this place will be home to more than just you if you open your heart to it.
The Home, a sturdy built one and a half story constructed in 1947 has weathered many storms and is more than sound, dry, and warm enough to withstand a future's worth of them. On the inside you will find a kitchen you can work and eat in, a living room that is always warm, 5 rooms to do what you will with, a bright bathroom, and a full basement that is home to the mechanical services, cold storage rooms, and whatever else you decide.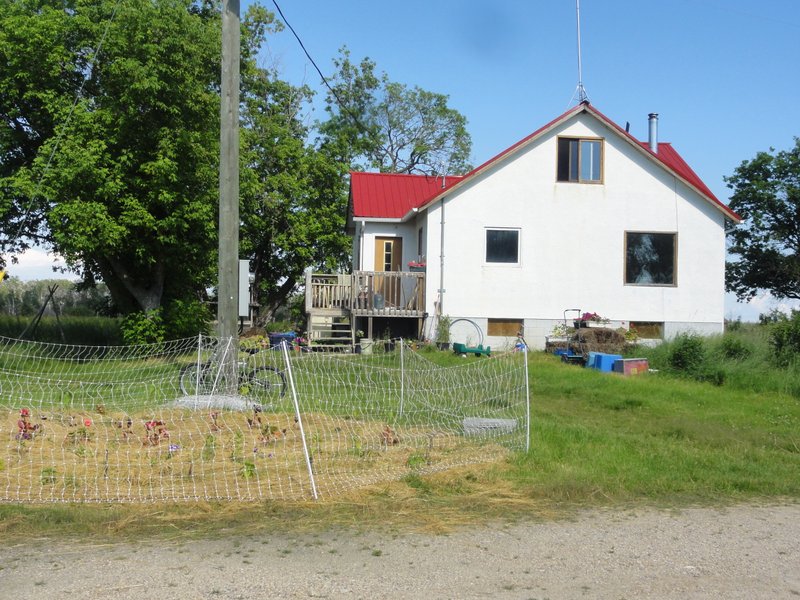 The red hip roofed building that is joined to a large lean-to under which is a walk in cooler and walk in freezer is yet unfinished on the inside ready to suit your dreams (We have turned it into a tiny home over summer months in the past as there is water there). The old tie stall dairy barn has been refitted as a home for chickens our whole time here (many different configurations) and benefits from the south facing windows, allowing the hens to bathe in light and warmth even in the dead of winter. The large steel shed has served just about every purpose through our decade here from parties, to animal pens, to storage, to curing veggies. The many other buildings each have their stories to tell since all have steel roofs and are still standing because of them. Two wells have been punched into the ground here: the water that our home well pulls from the earth has received many compliments and is piped to multiple buildings. The water from the other older well has been used for irrigation and livestock.
Our hope is to find some loving hands to take over this special place, and while we would like to sell this property as an operating farm, as is, we are certainly open to conversation and listening to what your dreams may be. We have supplies and equipment to continue operating the happy hennery, and many other things (Everything from strawberries and the geese to weed them, to cattle has been on this land.) Over the past five years we have grown out a fields worth of garlic and that stock will also remain in the ground or out.
Summary:
119 acre property with story and a half home and multiple outbuildings currently operating as an egg and veggie farm. 2.5 miles from Lake Winnipeg. 5 miles from Gimli.
Buildings:
900 square foot story and a half home with full sized basement built in 1947. Metal roof installed 5 years ago. Encore Vermont Castings wood stove installed 3 years ago. Forced air electric heating. Septic tank and field. Home is warm and dry.
Tall steel shed 60'x42' electric service
Red Hip Roofed building 10'x16' with 18' x18' lean-to with walk in cooler and freezer each 7'x7'x7'. Electric and water to building
Garage/shop 28'x24' with lean to 9'x26', electric service.
Barn 92'x26' electric and water service.
Animal shelter 88'x24' electric and water to Richie two basin cattle waterer.
Old Granary 30'X18'
3 1200 bushel grain bins.
Farm:
Land is perimeter fenced in barbed wire and electric. Cross fence with electric fence.
7500 garlic plants in ground to be harvested in July or August.
200 hen laying flock.
Approximately 600 bushels organic wheat.
Assorted chicken supplies: GQF 1502 Sportsman incubator, heat lamps, waterers, shelters, poultry nets, feeders, crates.
7hp 240v electric roller mill.
Assorted lumber, doors, windows, and reclaimed hardwood flooring.
Tons (literally) of gardening supplies: Trays, pots, huge amount of stockpiled compost.
Lots of hand tools.
Loads of fencing and supplies from page wire to electric.
Multiple fields that have been picked of rocks and are ready for cultivation.

3ph equipment: bed maker/hiller, 6ft sprayer, back blade, bale spear, 10ft cultivator

 

Vehicles: 2009 Dodge Grand Caravan 1998 Toyota Corolla - both just over 100,000kms

 

Animals: -2 friendly Halflinger Horses with harnesses -2 sweet donkeys -4 sweet cats that keep the mice away -200 hens of heritage and mixed breeds that lay a rainbow color of eggs
The farm Business is also something we would pass along to anybody interested.  We have lived a simple life, homeschooling and spending much time together, and if family, time and nourishing food is of high value to you, we are happy to tell you how we have done it.  We feel blessed every day.  
Thank you.  
Please Contact
Contact:
Adam
daciachristian@gmail.com
204-642-9623
Serious inquiries only, please.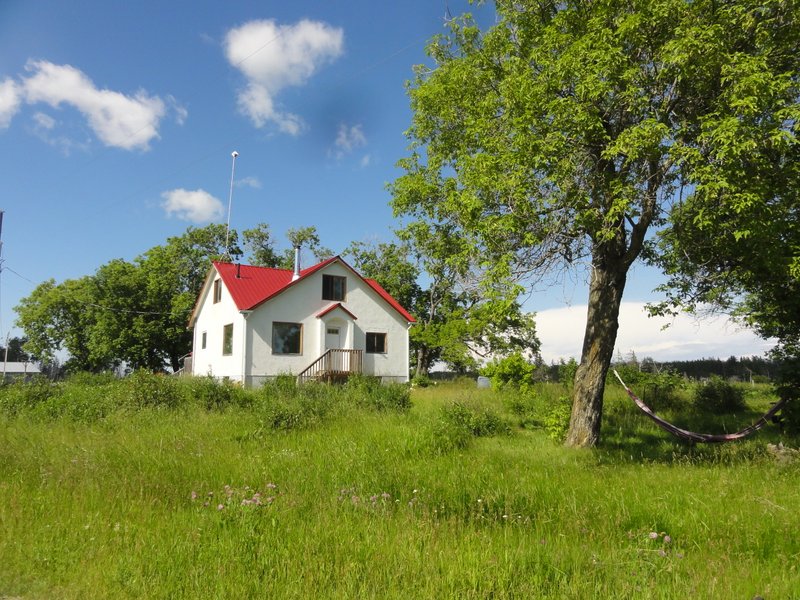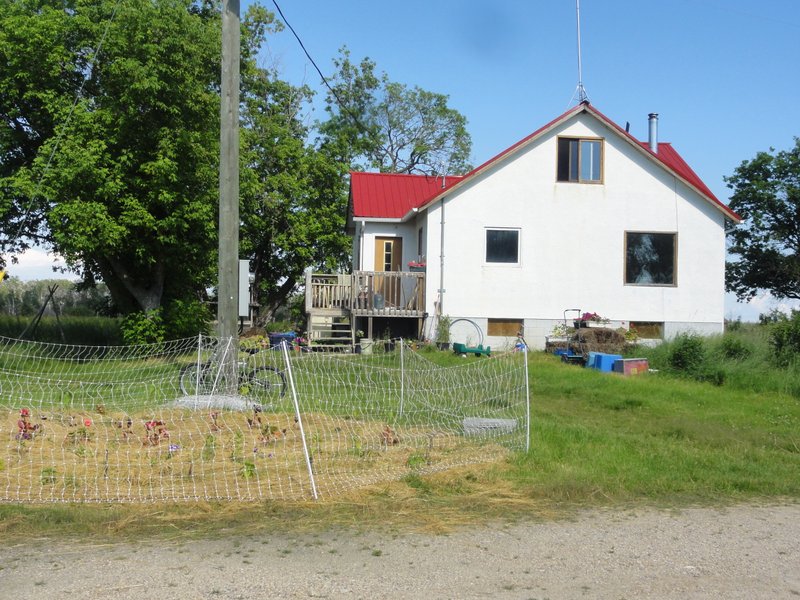 Please indicate you saw this listing at EcoProperty.ca.