** SOLD ** FARM FOR SALE
Wilderness Farm, Home, and Cabin on 51 acres
Firvale (Bella Coola Valley), British Columbia, Canada
UNDER CONTRACT. TAKING BACKUP OFFERS. 
This unique and beautiful property sits at the gateway to the Great Bear Rainforest in Nuxalk traditional territory. Realize high tourism or agri-tourism potential with prime highly visible location in sunny Firvale, on the world famous Discovery Coast Circle Route. Ideal for cannabis cultivation.  Accessible by boat, plane, and road: brand new luxury ferry Northern Sea Wolf from Vancouver Island, daily flights from Vancouver, or gorgeous five hour drive from Williams Lake across the stunning scenery of the Chilcotin plateau; this property is uniquely situated to deliver the best of what the region has to offer to the owner and visitors alike. With 600 feet of road frontage along both sides of Highway 20, this property will be seen by every tourist driving into or out of the area.
The house has 3 bedrooms and one bathroom, on two floors for a total of 2800 sq. ft. It is a lovely and solid post and beam home, with two beautiful well-lit frame additions. One is brand new with a second-floor sleeping loft, a spacious upstairs room that can be used as a bedroom or office, and a first floor mudroom; both additions have large picture windows to take in the incredible views of Mt. Defiance and Mt. Nusatsum, known locally as The Sleeping Giant. The first-floor bathroom has two sinks, a large Jacuzzi tub, and separate shower. There is also plenty of room on the second floor to easily add another bathroom.
This home boasts a warm and inviting large farm kitchen, including restaurant-quality double sink and six-burner propane range, a wine (or homemade cheese-aging) fridge, custom-built island and open shelving, and space and flexibility to add your own stand-alone storage units such as hutches or sideboards, or easily accommodate a larger refrigerator.
You will have gorgeous views of the sunrise from east- and south-facing picture windows in the open floor plan living and dining area, which includes a beautiful newer wood cookstove with glass door to both cook on and watch the fire on those cold winter days. While the cookstove is considered by insurance companies to be a back-up heat source to the home's propane forced-air furnace, rest assured that the cookstove heats the entire house quite well on its own, even on cold winter days. The home is on its own septic, and is easily serviced using a local company. It has excellent drinking water from a private well, which some say is the best water they have ever tasted.
Near the main house is a one-bedroom guest cabin with ¾ bath and small kitchen. It was partially remodeled in 2010 by the current owners and has accommodated paying guests, WWOOFers and farm interns, and family members and friends visiting from out of town. It has electric baseboard heat and is on a separate septic system from the house.
Other outbuildings include: two large barns: older one-story 30x60 barn with loft, and new three-story 36x52 barn built with timber from the property; numerous storage/tool/multipurpose sheds including garden shed and tack room; large wood shed with loft; many shelters and paddocks for all types of livestock including lambing/kidding jugs, a large tie stall for two horses, goat milking shed, cow milking shed, and chicken coop with 12 nesting boxes; a greenhouse; float plane hangar; meat storage locker; and more. There are also numerous potential building sites, including an older foundation that has never been used yet is still in excellent condition and ready to build on.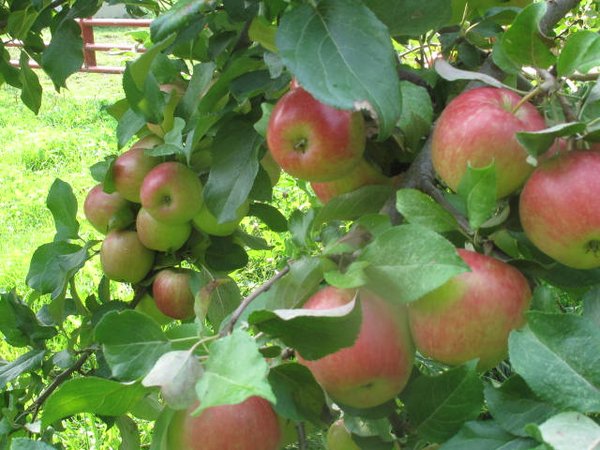 The soil on the property was surveyed in the last decade by University of BC soil scientists, and is some of the best in the province for supporting superior growth of a wide range of fruits and vegetables, including hazelnuts. The several large well-established gardens include prolific and delicious raspberries, June-bearing and ever-bearing strawberries, mature blueberry bushes, four year old asparagus patch, mature Valiant grapevines full of delicious purple grapes for eating and juice; healthy rhubarb and black currants; and several mature fruit trees: apple, crabapple, pear, plum, and cherry. There is also an established mushroom grove in the forest with oyster and shiitake mushrooms, as well as several species of edible wild mushrooms. Forage for wild strawberries, gooseberries, fiddleheads, elderberries, and nettles for excellent wild food nutrition. Owners have never used pesticides, herbicides, or chemical fertilizers. Gardens have been fertilized using only manure and compost made on the property, seaweed gathered from the nearby ocean, alder leaves from the forest, and hay/straw mulch. Sell produce from the farm gate, or at two farmers markets in Bella Coola. The location of the property makes this farm eligible for rural and remote Class D and E meat licensing, which enables farm gate meat sales, and sales to local stores and restaurants.
The entire 51 acre property is fenced (except at river frontage) and cross-fenced, including a gated driveway, to accommodate any type of livestock; the owners have raised sheep, goats, beef and dairy cows, pigs, horses, and chickens over the years. Wade and swim in four ponds, both seasonal and spring-fed, a seasonal creek, or the Bella Coola River, with your very own ¼ mile of river frontage, including sandy beaches!
This one-of-a-kind property is approximately half pasture and half forest, farmed and logged sustainably using beyond-organic methods. Fields are sub-irrigated, fertilized only with manure, and provide high-quality nutritious mixed grass and clover hay for your critters, or for sale to many local livestock/horse owners who are always looking for hay. The forest is mixed, mostly western red cedar and alder, with cottonwood, maple, hemlock, spruce, and fir. It has been logged sustainably by the current owners for building projects and firewood. There is good timber value for extra income if desired.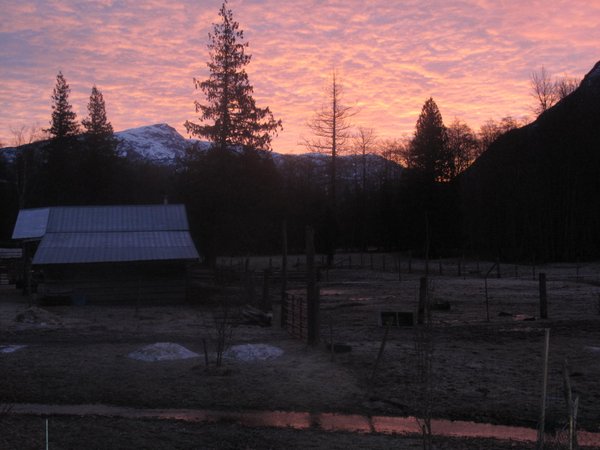 The property borders crown land on the other side of the river, and excellent hiking trails are within a few kilometers walk, bike ride, or drive from the house. It's only a five-minute drive to Tweedsmuir Provincial Park, the largest provincial park in BC. The mix of forest, field, river, and the famous Firvale cliffs supports abundant diverse wildlife, from salamanders to grizzlies, a very diverse migratory and resident bird population, and healthy trout and salmon population, with all five species of west coast salmon swimming right past the property. Firvale is in the transition zone between coastal temperate rainforest and dry plateau, so supports a high diversity of species from both ecological zones. There is a healthy population of Sitka black-tailed deer and the occasional mule deer on and around the property, sometimes moose wander nearby, and mountain goats are seen every year on the Firvale cliffs. The region is excellent for hunting wild game.
This property is remote and wild yet close to many amenities. Only 15 minutes from Hagensborg, you can easily access a well-stocked grocery/general/feed store, natural food store and liquor store, as well as fuel, outdoor public pool, a lovely bistro, post office, schools, and more. Drive 30 minutes to Bella Coola for more restaurants, a library, hardware store, schools, and more. Continue just beyond town to the Bella Coola Harbour and BC Ferries dock, where you can store your own boat, or hire tour boat operators to access remote hot springs and the most incredible scenery, fishing, and wildlife viewing of the world-famous Inside Passage.
There are currently many more tourists each year in the Bella Coola region than there are places for them to stay, so the potential for income from paying guests is extremely high. This farm and region are very popular and well-established on WWOOF Canada, Workaway, SOIL, and other work exchange websites.
Some farming equipment and livestock can be negotiated in the sale of the property, if desired. Please contact the owners for more information.
** SOLD **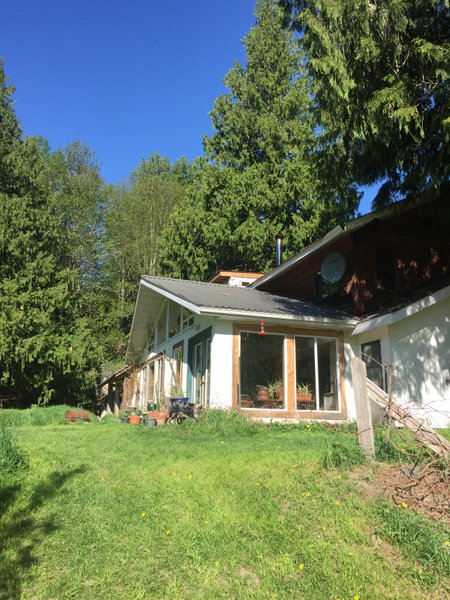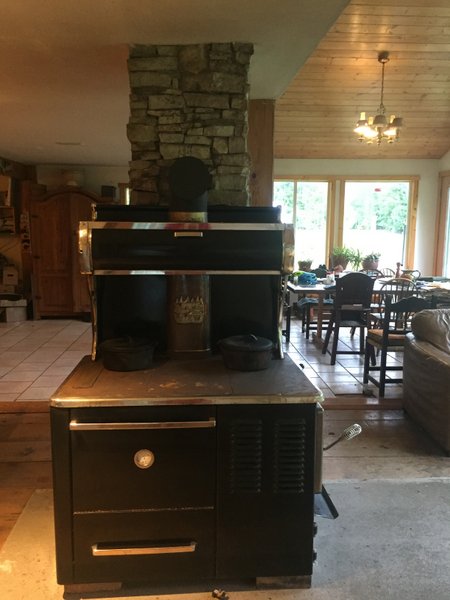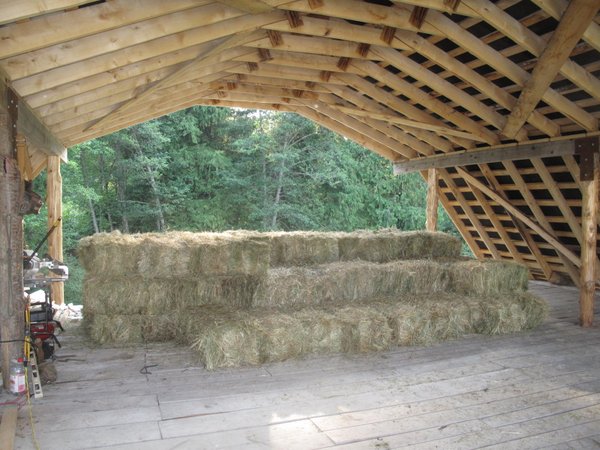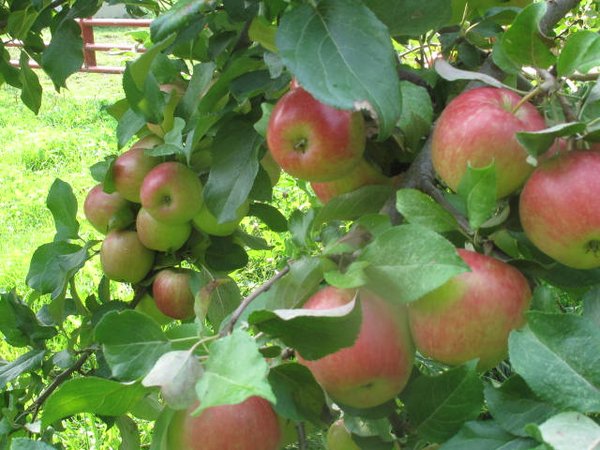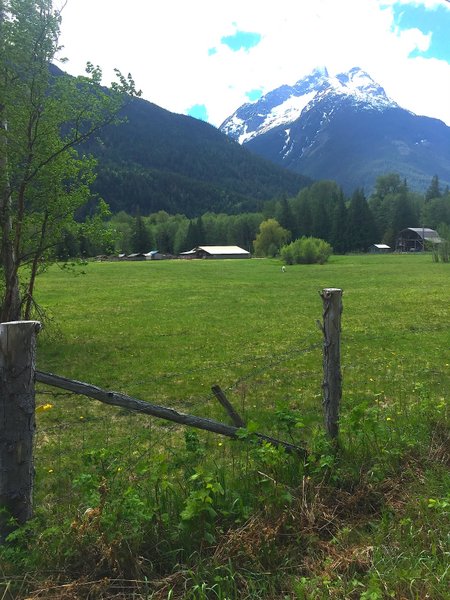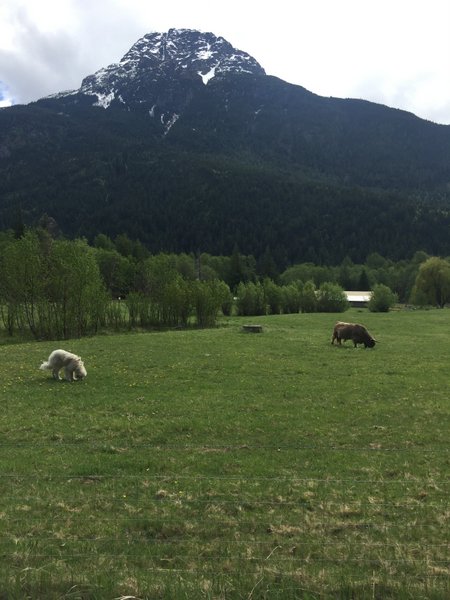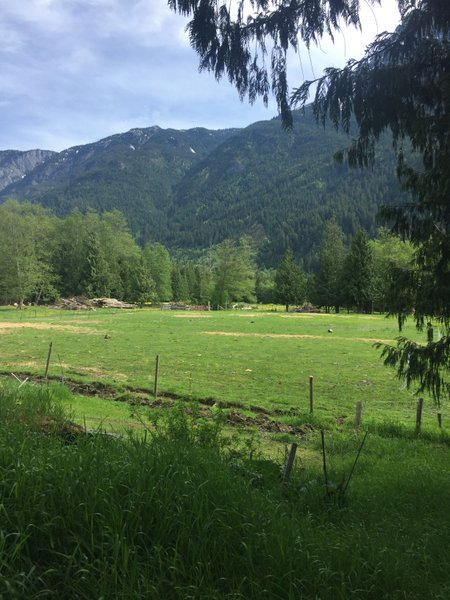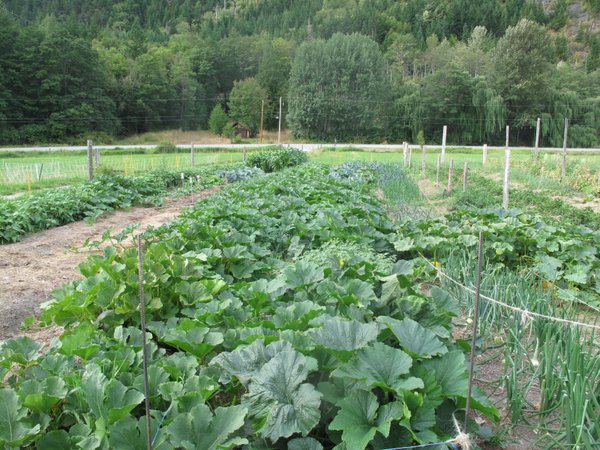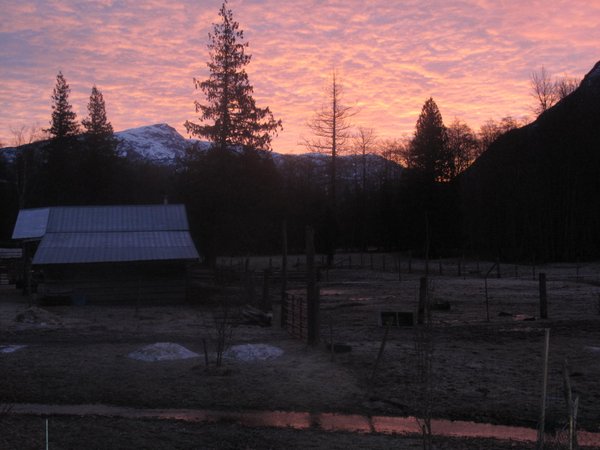 Please indicate that you saw this listing at EcoProperty.ca.