FOR SALE
CABIN IN THE MOUNTAINS plus 2 nd. home
50 acres, BC coastal mountains river front log home.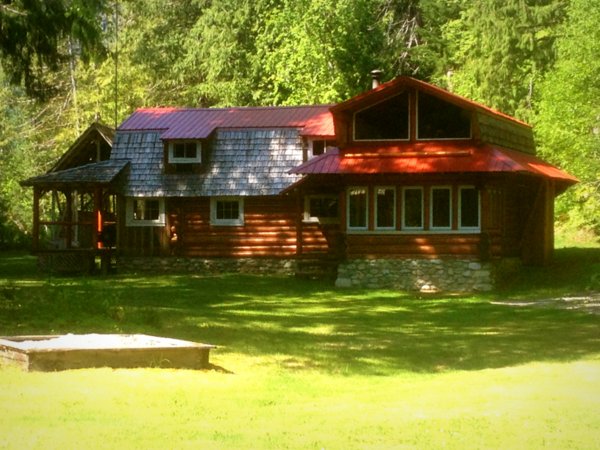 Hagensborg, near Bella Coola BC, Canada

Two homes in the beautiful coastal mountains of British Columbia.
1st home is a 3 bdrm. Log house siduated in total privacy (off grid) on the North side of Bella Coola river isolated from tourists with 600 meters of river front, backing onto mountains and waterfall. There is old growth forest. Independant power sources of genset and solar. Propane gas range,indoor toilet and clawfoot tub. Structual stone foundation. Washer and dryer. A beautiful Boat launch.
Out buildings consist of: Shop, woodshed, tool shed, generator bld.ing and outhouse. Gazebo with fire cooking grate, outdoor heated shower.
Also included: archery range, axe throwing block, horse shoe pit, gun range.
2nd House is a framed 3 bdrm. home (on grid) on the south side of the Bella Coola river.finished to lock up, on hwy 20 with river access and RV site and 2nd boat launch. 9 ft. cielings with mountain view, huge porch and municipal power. boat shed, and outhouse.
This is a hunting and fishing property that has river sports, extreme snowmobiling and atving.
Included with property,  genset for shop and house,some furniture & tools for maintenance.
3 boats; canoe, drift boat, and 16' jet boat. (approx.. $200,000.00 timber value).
Fully furnished with phone booster, flat screen TV, washer and dryer.
Pacific ocean is 60 km.west with ocean harbor. Deer, bear, goat, and grouse hunting ,salmon and trout fishing directly at your front door
Town amenadies are 20 min to Hagensborg and 45 min. to Bella Coola
1.5 hr flight to Vancouver International airport.
This is a retreat in nature for the extreme outdoorsman /naturalist and realist.
It is the perfect place for a family to experience life together in nature.
There is endless water supply and lumber for building and heating.
old road systems for trail hiking,biking ATV ing.
This is not a farming property, there is a small orchard and garden area. Lots of fish and wildlife.
Wild mushrooms and onions, huckle berries, grouse, deer, bear, mountain goat, salmon and trout at the doorstep.
This is a move-in ready cabin for up to a family of 6. This is truely paridise. No industrial business in the valley.
Build what you want how you want.
Price:
$498,000.00 CDN.
For more info and photos:
Contact : ssretreat@hotmail.com
Please indicate that you saw this listing at EcoProperty.ca.