*** SOLD ***
HOME FOR SALE
Country Oasis Retreat For Sale, Featuring Organic Gardens & Business Opportunity
399 Sulphide Road, Tweed, Ontario
Are you considering a personal countryside retreat? Are you thinking of a new business venture celebrating gastronomy adventures and culinary delights? Would you be ecstatic to find both in one opportunity?!
Welcome to 399 Sulphide Road, on the outskirts of charming Tweed, Ontario. Ideally positioned within a 2h15m drive to either Toronto or to Ottawa, ensures ease of access for you to enjoy the property as a personal vacation retreat to easily welcome friends from both major centres, or to ensure equal ease as you consider making this your own personal lifestyle business venture!
The farmhouse exudes charm and has been lovingly restored and expanded upon to ensure a nostalgic tip of the hat to an era less focussed on the hustle and bustle of city life, and equally welcoming to friends and guests who greet your front doors.
From the moment you approach the iron gated entrance of the property (personally crafted by the current owner), and make the short drive down the driveway, your senses are immediately immersed in the tranquility of an outdoors art experience. Many of the installations have been hand crafted by the current owner, who currently uses the property as a personal weekend retreat as well as a welcoming retreat to guests of his Culinary Room. The property is unequivocally an art lover's delight! And many of the outdoor installations will remain yours to enjoy and love. The interior elements of the property offer an equally complementing experience to the sensations.
If you have been looking for a fantastic property with incomparably unique attributes, this is a property for the sensations and personal enjoyment.
PROPERTY FEATURES:
The Farmhouse. Lovingly and artistically restored farmhouse with spaces/rooms re-interpreted to ensure awe from your friends when you welcome them to your weekend retreat. The bedrooms are all oversized in their current interpretation, offering great spaces for your weekend quests. Wanting the home for more personal experience? The spaces offer an incredible amount of flexibility.
There is an oversized room off the kitchen area with a three season room, enclosed with a Velcro-plastic screen system for your early spring/late fall seasons; ensuring a grand extension of your entertaining/enjoyment experience.
The back-of-home area offers a private oasis guaranteed to excite an entertainer's delight. This area includes a custom-designed deep-plunge-pool. Small enough (and designed) to easily heat. Small enough to cover and keep cool in summer's heat. Why suffer the summer heat?!
The Culinary Room. A standalone building featuring a culinary room, with fully equipped kitchen and presentation counter as well as a private dining area for your quests. The culinary centre features a "water closet" separate from the main home, with eco-friendly composting toilet.
The Culinary Room is currently used as a business element for the current owner. Offering a flexible room enabling everything from private family/friend gatherings requesting individually curated menu experiences, to featured-meal gatherings, to seasonal specialities – all sourced locally from wonderfully organic and sustainably focussed members of the broader community.
The Gardens of Arts. A stroll through the property is not unlike a stroll through a beautiful tranquil park. Considering this as a potential business venture? Guests will be drawn to the property for a holistic experience. While the farmhouse is a definitive focal point, your personal home privacy remains solemn as the property offers many other focal areas for guest engagement. If the Culinary Room is not your personal business focus, consider that guests would still embrace the country experience and your entrepreneurial spirit ensures the sky is the limit. Speaking of sky … one goes a long way to enjoy such open skies and star gazing! You will fall in love with the open sky, on a clear full-moon night and be in awe of the beauty that is the countryside.
The Greenhouse and Organic Gardens. Have you always wanted to have your own organic garden? The greenhouse building ensures you can early-start your own spring seedlings. Control the organic soil birthing your heirloom seeds. Your Culinary Room venture will shamelessly promote an offering "from-seed-to-table". Your family and friends will be as equally delighted of your new-found love of food growth engagement! Consider your own preserves and fine-foods label! Imagine a "Rustic Rhubarbs By Me" series of spring labels; a summer Organic Orange Zucchini relish that OOZes from any summer BBQ burger; a fall Organic Apple Jelly; Roasted Pumpkin Purées … your imagination is your only limitation!
The Work Shop. Recently board-and-battened, and insulated-covered building, this building is the heart of the art pieces created around the property. The Shop features an upper loft with large windows and lots of daylight! The Shop features a wood stove as well, permitting you to extend the artistic-work seasons!
*** SOLD ***
Contact:
John Nolan
JNolan@RoyalLePage.ca
1 647 229 5646
Realtor.ca / MLS® Number: 1220046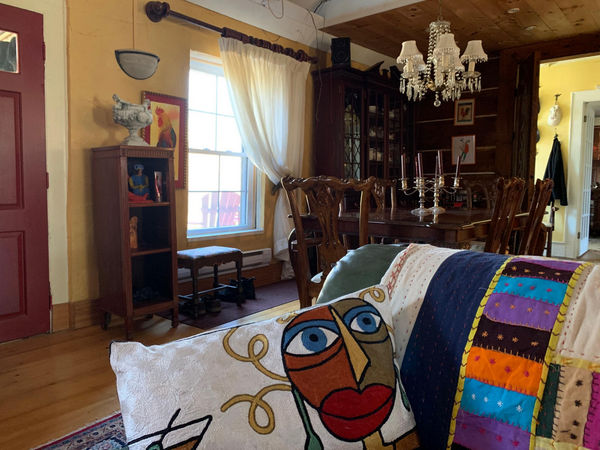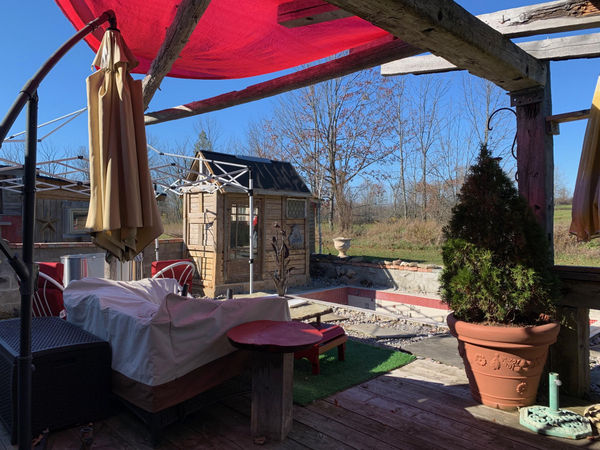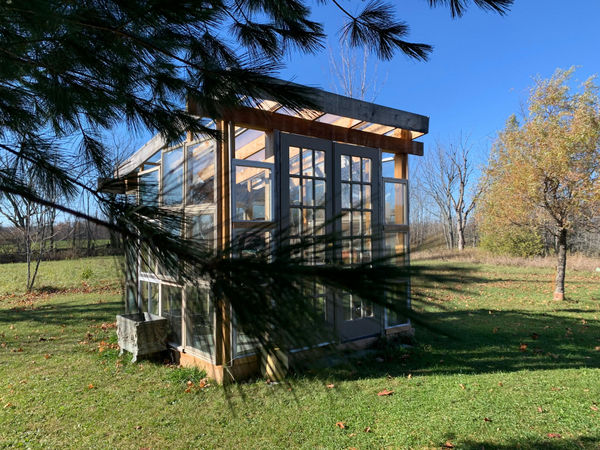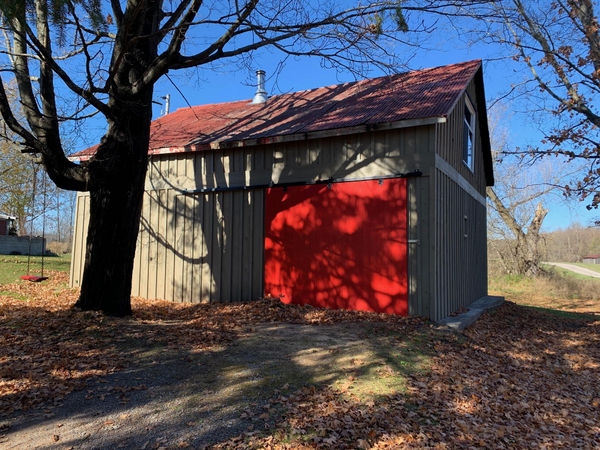 Please indicate you saw this listing at EcoProperty.ca.