Peaceful, Permaculture Acreage
Eco Friendly Home
Lethbridge, Alberta
Enjoy country living in the city on these beautiful 7.76 acres overlooking the coulees.

Our family home is a little known hideaway at the end of a cul-de-sac. The only traffic you'll see are pheasants and deer meandering through your yard in this quiet neighbourhood.

The acreage is situated on what remains of the original 320 acre Model Farm (1901-1972) that overlooks the historic 6 Mile Coulee through which the whiskey traders once ran. One of the property's boundaries was known as Lees Road; the first 'highway' built connecting Lethbridge with neighbouring towns to the south. 

I have fond memories as a teenager of this land. My husband and I returned to assume its stewardship when my parents were Seniors. Now it is time for me to pass on the stewardship of this home and much loved property.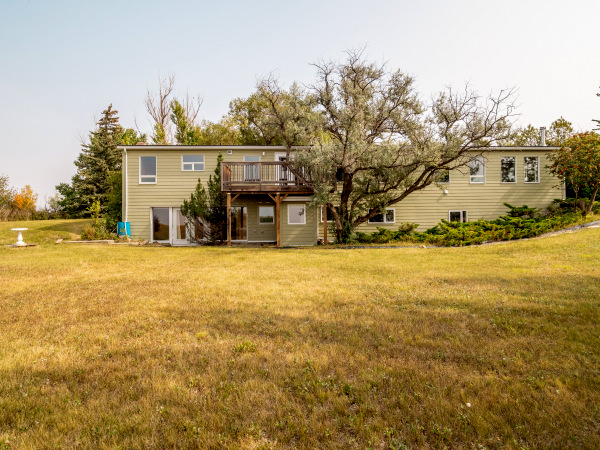 The Home:

This well-looked-after, energy-efficient walkout bungalow (3000sq.ft total) was transformed in 2009 during extensive renovations. Stripped to the studs, the home now features numerous sustainable features: P2000 insulation, a 97% energy efficient furnace with 3 control zones, HRV, Roxul insulation throughout the interior, hot water on demand, re-circulating hot water pump, triple and double paned fibreglass framed windows (main floor), soapstone wood stove, standing seam metal roofing and Hardie Board siding.

The walkout basement is wrapped by three cement earth-bermed walls keeping it warm in winter and cool in summer. It has a full suite including a den off the large bedroom, a private laundry and a private entrance. Its large family room, with a wood burning stove, offers immediate access to the coulees with their sweeping landscape.
On the main floor, the west facing picture windows invite the unencumbered view of the coulees to become part of the inside living space. The open concept floor plan has two separate sitting or living rooms from which you can admire the coulee scenery from different angles. There are two spacious bedrooms and two full baths. One bathroom is an ensuite and the other has the laundry facilities with a large stainless steel sink. Choose either gas or electric hookups. The home is on city water and has a well-maintained septic tank and field.

The kitchen, professionally designed, has a 10' island which includes a prep sink, a spacious pantry and natural maple cupboards and drawers with sturdy hardware. There is also a reverse osmosis water system under the double stainless steel sink. Either gas or electric hookup is available for the range.

The colourful flooring in the kitchen and front entrance is painted 3/4" plywood, by choice! The earthen floor in the south part of the house is made from sand, clay and fine straw, giving a warm, welcome feeling. Both are durable and practical.

No matter where you are in this family home, experience the outdoors, inside.

Relax on the east veranda, appreciating the solitude created by the mature trees. Or be immersed in the expansive coulee panorama from the west cedar deck during the day and by night bask in the magnificent sunsets.
Be impressed with the unparalled beauty of the native flowers, shrubs and coulees while exploring the many kms of walking, hiking and biking trails that connect to you from your doorway.

This home and property bring nature to your doorstep, while being close to all the amenities city life offers: the best of both worlds! This unique acreage is an opportunity to live the life of your dreams.
Land: A Permaculture Paradise
Mom's Garden: 61'x37' swaled garden already exists. This garden is surrounded by a 12' wide shelter belt of native chokecherries and Russian Olive trees. Natural slope south to north.
Additional non-swaled space at north end 21'x25'.
5 irrigation spigots strategically placed to water garden and hedges.
South end 3 active compost bins
Welcome Garden at front of house 23'x16'
Future garden areas currently in grass. 88x43' with spruce tree shelter belt on west and chokecherry trees on east
88'x73' area to the west of the house with huge poplar trees to the south and a chokecherry hedge to the north, some native buffalo berry shrub and poplar to the west
Additional 2-3 acres (approx) of flat land to the south of the house bordered by south and west hedges of Russian Olive and chokecherry
Mature trees and shrubs: spruce, chokecherry, dogwood, poplar, buffalo berry, Golden/Flowering currant, Russian olive, willow, lilacs, green elm, juniper, mountain ash, red maple, Bur oak
Existing wood mulch pile and lots of branches ready for mulching
A variety of wild edibles and medicinal
No herbicide, pesticide or chemical fertilizers applied in the last 13 years
A variety of micro climates
5000 gallon in ground cistern (needs relining)
Standing seam metal roofing (2009)for water catchment (approx 2500 sq.ft)
Average annual rainfall approx. 15"
333 days of sunlight in an average year
Growing zone 4
West prevailing wind (warming Chinook winds in winter)
Whether you're looking for the perfect retirement home or wishing to raise your family in a sustainable home on an acreage or living your dream to carry forward the vision of The Model Farm as a Permaculture Paradise, experience the luxury and tranquility of country living within the city of Lethbridge, Alberta, Canada.
$925,000
Contact: 
Ryan DeCillia
rdecillia@sothebysrealty.ca
403.894.7388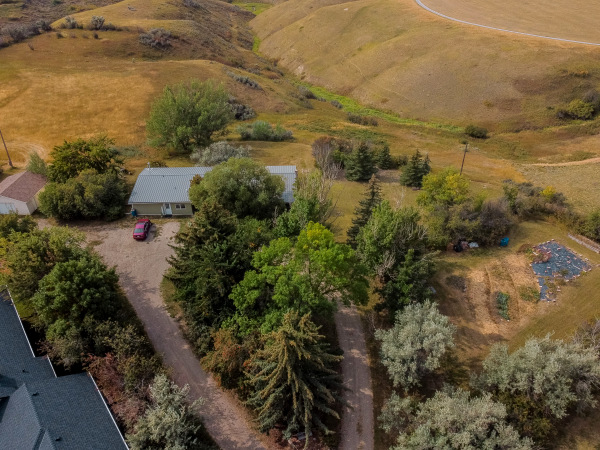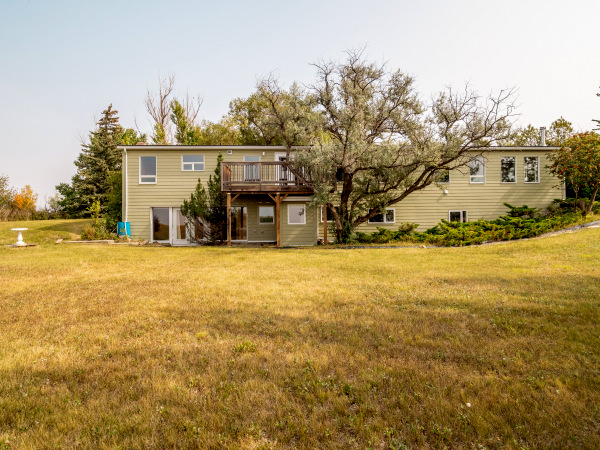 Please indicate you saw this listing at EcoProperty.ca.