ECO-HOME FOR SALE
Go green with this beautiful passive solar authentic cob house
Ecovilla Gaia, Navarro, Argentina, South America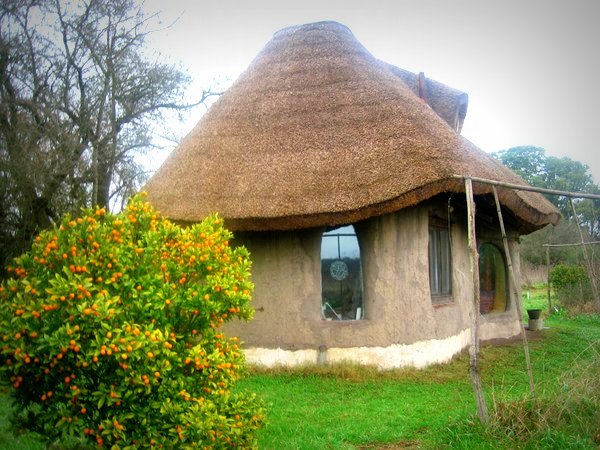 Beautiful house, 2 bedrooms, living room, kitchen, bathroom with dry bathroom system.
Cob building with the direct modeling method, with a thick and insulating Belgian type straw roof; ground floor isolated and with thermal mass. Wood treatment with organic products and natural paints.
The house of 72 m2 is located in Lot No.5 in the exclusive Amanecer-Atardecer Condominium, in Ecovilla Gaia, 110 kms from the City of Buenos Aires, rural area of Navarro, of Buenos Aires, Argentina.
It has fruit trees and is protected by a wind curtain of trees planted 20 years ago.
It has electricity through wind turbines and solar panels, as well as the best quality water for pumping that are available to all condominium owners.
The sale is with deed of undivided ownership of 1/35 of 9 hectares, with exclusive use of lot Nº5.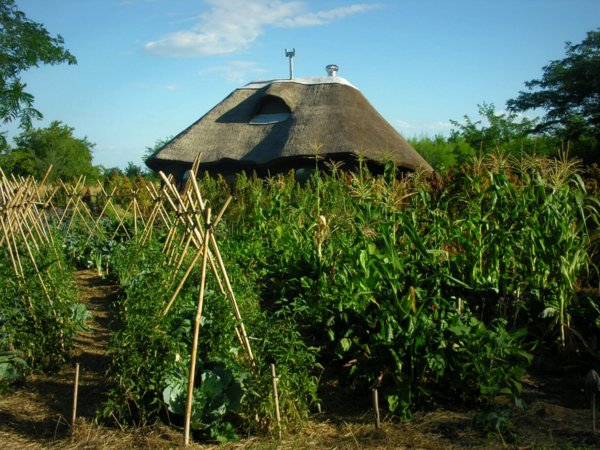 The price is for the house published with land and co-ownership of the 9 hectares described below.
Common spaces: Upon purchase of this property, you agree to be co-owner of the 9-hectare property with the following common areas for its use:
Auditorium for 130 people with complementary reception rooms, shop and office, and children's play room.
Community center with kitchen, internal pantry, dining rooms for 100 people and library.
External pantry.
Fruit tree forests with more than 425 trees of 25 different species in full production.
Construction and games for children.
Educational solar train.
Clothes washing center.
Sheds and workshops.
Greenhouse
Power station with 4 wind turbines, solar panels and battery bank.
Natural park with forests of native species.
Forests of timber species.
Vegetable gardens and other growing areas.
And various areas for eating and being outdoors.
The writing is accompanied by a regulation to ensure the sustainability and ecology of the total property.
Price: the indicated price is in promotion for a limited time! It has a few spaces without construction if you wanted to make your home to your liking. Ask us what are available, price and payment facilities.
The usufruct of common spaces generate income for each co-owner, for example the rent of the lounge or dining room for events, guided tours and eco-tourism, or the sale of surplus fruit and nuts, generates an income in favor of each condominium owner, who will deliver after deducted the maintenance costs if any.
*** Productive and service enterprises ***
Some examples of ventures that are in operation and general income to the condominium:
Rent the auditorium / lounge with meals.
Guided tours and lunches to the general public. Rural ecological tourism.
Guided tours for groups of students, from primary to university.
Courses and seminars.
Sale of surplus vegetables, fruits, firewood, bamboo, wood and seeds.
You will be able to start your productive undertakings or services that you want to develop using the facilities and all the common areas, or join existing ones.
* Access *
The condominium is located within the Ecovilla Gaia, in rural area of the Navarro, Buenos Aires, 110 kms from the City of Buenos Aires, Argentina.
The Ecovilla Gaia has 22 years of development and is one of the pioneering projects in the world to achieve the highest levels of sustainability.
It is located 15 minutes from the city of Navarro, where there are all kinds of services and products available. And 30 minutes from the city of Mercedes.
It has two roads, one improved with a distance of 1 km to Route 41 (which can be accessed even on rainy days).
The property is surrounded by a beautiful rural landscape where the main production is dairy, followed by cattle and finally agriculture.
The cob house embodies a balance of esthetic beauty with function in our "pampas".
The many traditional architectural features inside the house rendered by master craftsmen are beautiful artwork in their own right.
The healthy ecosystem within and surrounding our ecovillage 46 acres of chemical-free land. Its abundance of diverse crops and forest inspires deep respect and an ethic of protection.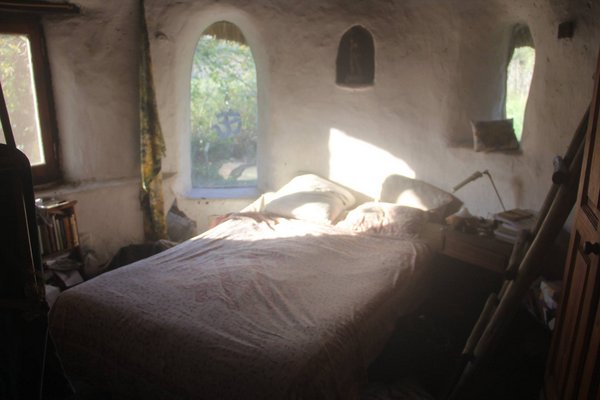 North facing as well as east and ---- windows can be worked to create constant cross ventilation with clean, fresh airflow, keeping the worm season house confortable temperatures.
Neighborhood description
The area is quiet and serene, filled with the wonders of nature and beautiful pampas.
This house is located in a quiet rural area, 1km from a route with very low traffic.
15 min away from Navarro town (this town has all services and products you may need, including free public hospital) and 1,5hour away from Buenos Aires, capital city of Argentina.
Schools
There are public and private schools and highs schools.
Market area
The house is only 7 miles from Navarro city center, with a neighborhood grocery, hardware store, gas station, museums, post office, banks, hospital, small malls and several restaurants.
Navarro, otherwise known as land of Argentinean conventional, is a cultural oasis brimming with impressive abilities in all dance and live folkloric music.
Watch our videos !!
https://youtu.be/0dYoMCMu2Uk
https://youtu.be/EEww2b-PeJQ
https://youtu.be/ndMpeDhVgVg
Price: $89,000.00 US

Contact:
info@gaia.org.ar
(+54-9) 2227 552 554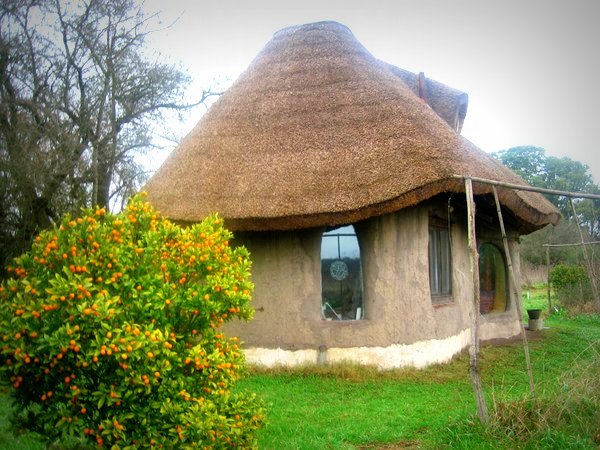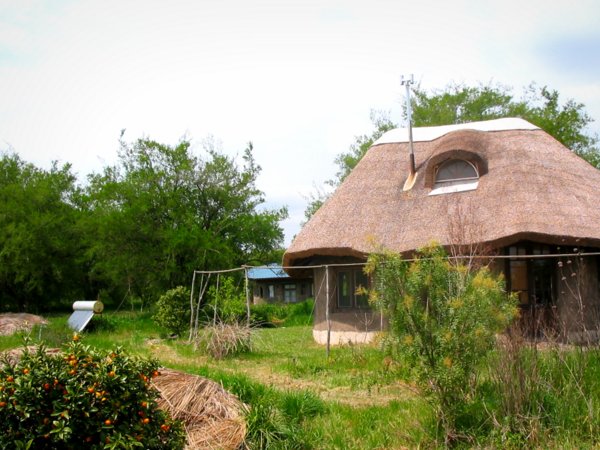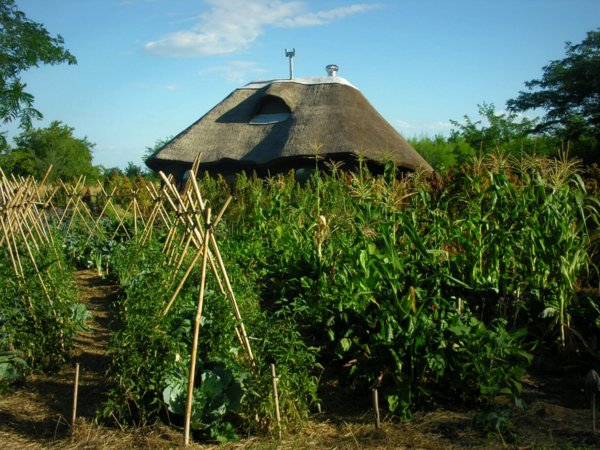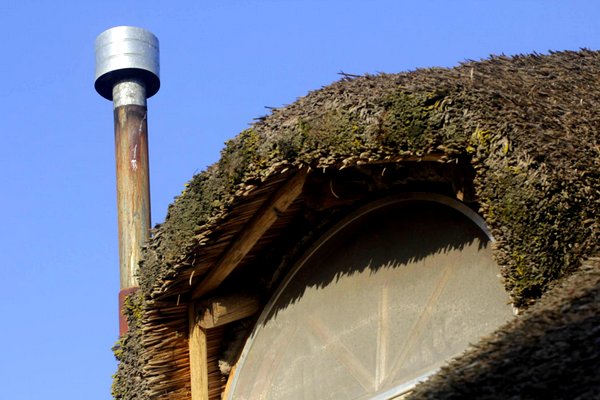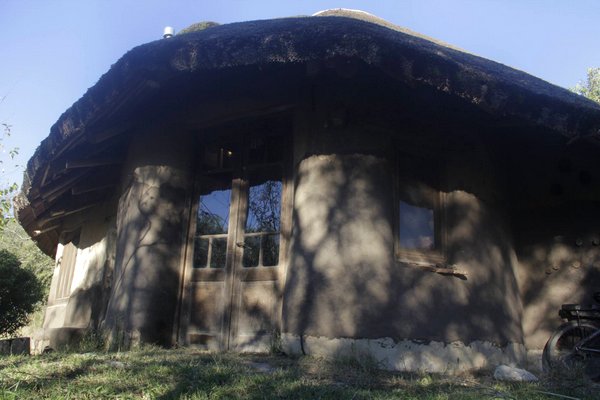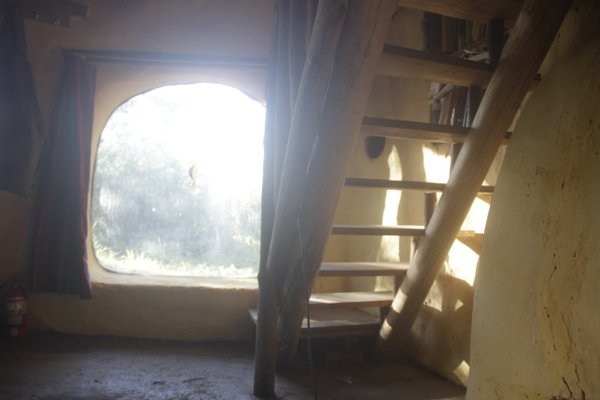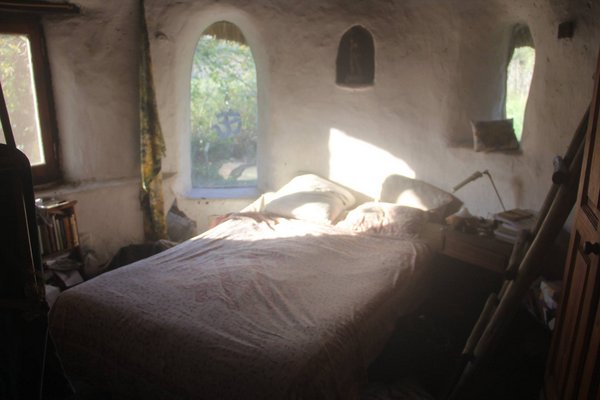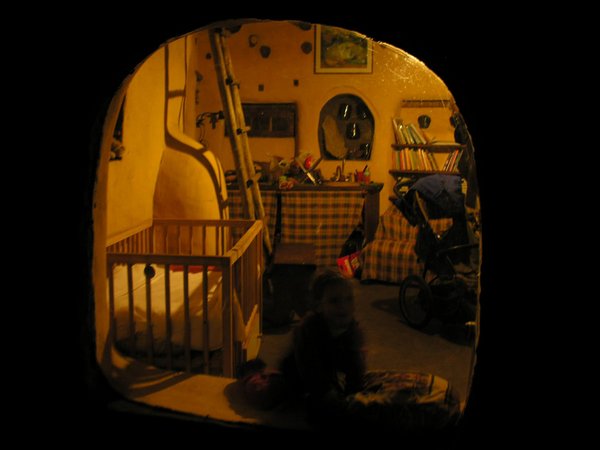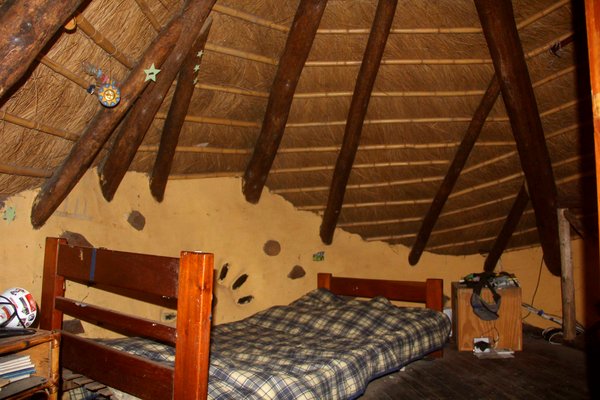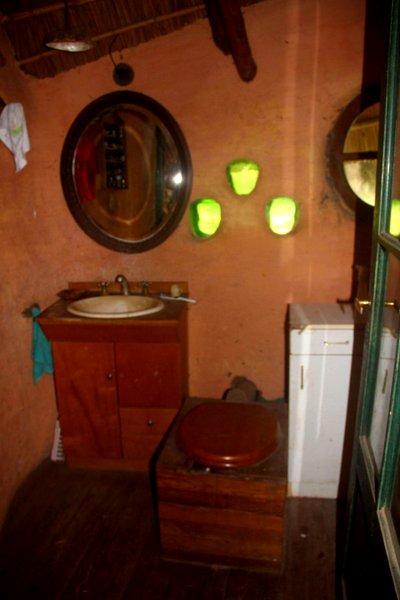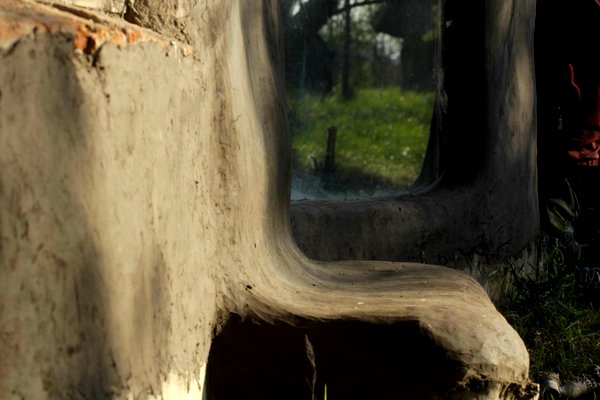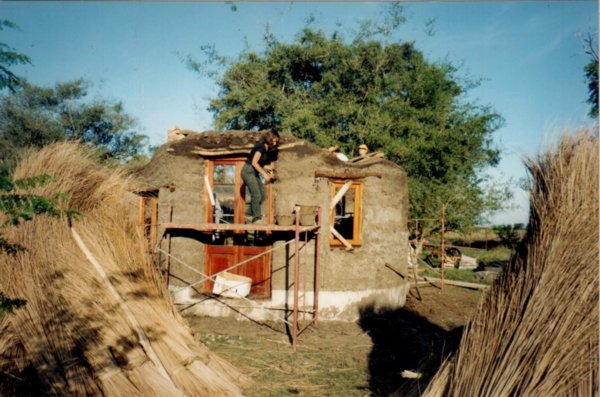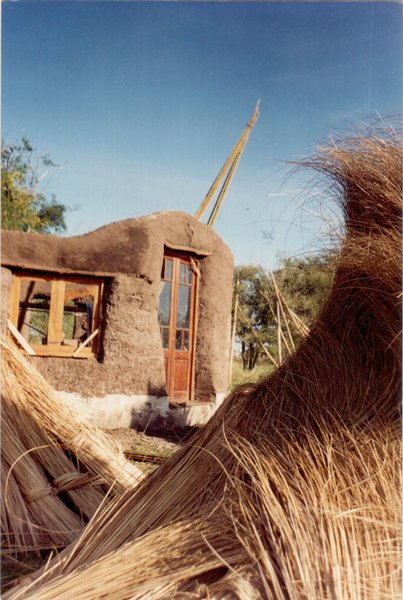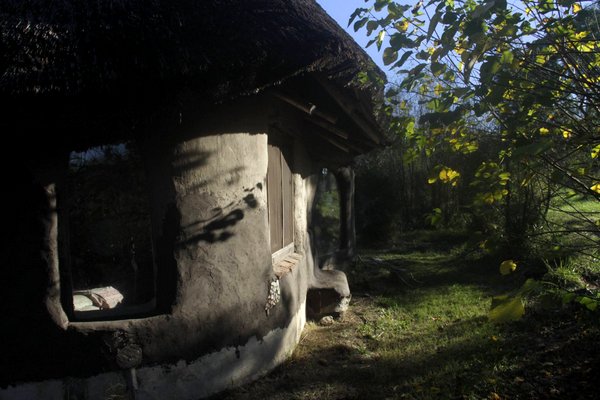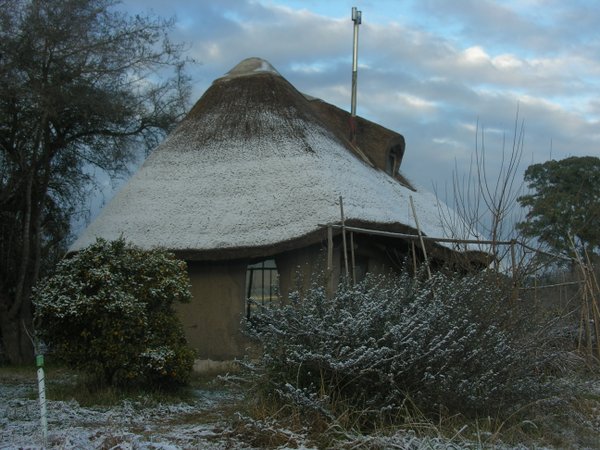 ---
Casa en venta
Hermosa casa, 2 habitaciones, sala, comedor, cocina, baño con sistema de baño seco.
Con construcción con el método de modelado directo, con un techo de paja de tipo belga, grueso y aislante; planta baja aislada y con masa térmica. Tratamiento de madera con productos orgánicos y pinturas naturales.
La casa de 72 m2 está ubicada en el Lote No.5 en el exclusivo Condominio Amanecer-Atardecer, en Ecovilla Gaia, a 110 kms de la Ciudad de Buenos Aires, área rural de Navarro, de Buenos Aires, Argentina.
Tiene árboles frutales y está protegido por una cortina de viento de árboles plantados hace 20 años.
Tiene electricidad a través de turbinas eólicas y paneles solares, así como la mejor calidad de agua para bombeo que están disponibles para todos los propietarios de condominios.
La venta es con escritura de propiedad indivisa de 1/35 de 9 hectáreas, con uso exclusivo del lote Nº5.
El precio es para la casa publicada con tierras y copropiedad de las 9 hectáreas que se describen a continuación.
Espacios comunes: al comprar esta propiedad, usted acepta ser copropietario de la propiedad de 9 hectáreas con las siguientes áreas comunes para su uso:
Auditorio para 130 personas con salas de recepción complementarias, tienda y oficina, y sala de juegos para niños.
Centro comunitario con cocina, despensa interna, comedores para 100 personas y biblioteca.
Despensa externa.
Bosques de árboles frutales con más de 425 árboles de 25 especies diferentes en plena producción.
Construcción y juegos para niños.
Tren solar educativo.
Centro de lavado de ropa.
Galpones y talleres.
Invernadero
Central eléctrica con 4 aerogeneradores, paneles solares y banco de baterías.
Parque natural con bosques de especies nativas.
Bosques de especies maderables.
Huertos y otras áreas de cultivo.
Y varias áreas para comer y estar al aire libre.
La escritura se acompaña de una regulación para garantizar la sostenibilidad y la ecología de la propiedad total.
Precio: ¡el precio indicado es en promoción por tiempo limitado! Tiene algunos espacios sin construcción si deseaba hacer que su casa fuera de su agrado. Pregúntenos cuáles son las instalaciones disponibles, de precio y de pago.
El usufructo de espacios comunes genera ingresos para cada copropietario, por ejemplo el alquiler del salón o comedor para eventos, visitas guiadas y ecoturismo, o la venta de excedentes de frutas y nueces, genera un ingreso a favor de cada condominio propietario, que entregará después de descontar los costos de mantenimiento si los hubiera.
*** Empresas productivas y de servicios ***
Algunos ejemplos de emprendimientos que están en operación e ingresos generales para el condominio:
Alquile el auditorio / salón con las comidas.
Visitas guiadas y almuerzos al público en general. Turismo ecológico rural.
Visitas guiadas para grupos de estudiantes, desde la primaria hasta la universidad.
Cursos y seminarios.
Venta de excedentes de vegetales, frutas, leña, bambú, madera y semillas.
Podrá comenzar sus emprendimientos productivos o servicios que desee desarrollar utilizando las instalaciones y todas las áreas comunes, o unirse a las existentes.
* Acceso *
El condominio se encuentra dentro de la Ecovilla Gaia, en el área rural de Navarro, Buenos Aires, a 110 kms de la Ciudad de Buenos Aires, Argentina.
La Ecovilla Gaia tiene 22 años de desarrollo y es uno de los proyectos pioneros en el mundo para alcanzar los niveles más altos de sostenibilidad.
Se encuentra a 15 minutos de la ciudad de Navarro, donde hay todo tipo de servicios y productos disponibles. Y a 30 minutos de la ciudad de Mercedes.
Tiene dos caminos, uno mejorado con una distancia de 1 km a la Ruta 41 (que se puede acceder incluso en días lluviosos).
La propiedad está rodeada por un hermoso paisaje rural donde la producción principal es lácteos, seguido de ganado y finalmente la agricultura.
La casa de la mazorca encarna un equilibrio de belleza estética con la función en nuestra "pampa".
Las muchas características arquitectónicas tradicionales dentro de la casa representadas por maestros artesanos son bellas obras de arte por derecho propio.
El ecosistema saludable dentro y alrededor de nuestra ecoaldea 46 acres de tierra libre de químicos. Su abundancia de cultivos diversos y bosques inspira profundo respeto y una ética de protección.
Tanto las ventanas orientadas al norte como las orientadas al este y las ventanas se pueden trabajar para crear una ventilación cruzada constante con un flujo de aire limpio y fresco, manteniendo las temperaturas agradables de la casa de la temporada de gusanos.
Descripción del barrio
La zona es tranquila y serena, llena de las maravillas de la naturaleza y hermosas pampas.
Esta casa se encuentra en una zona rural tranquila, a 1 km de una ruta con muy poco tráfico.
A 15 minutos del pueblo de Navarro (este pueblo tiene todos los servicios y productos que pueda necesitar, incluido el hospital público gratuito) y a 1,5 horas de Buenos Aires, la capital de Argentina.
Escuelas
Hay escuelas públicas y privadas y escuelas secundarias.
Área de mercado
La casa está a solo 7 millas del centro de la ciudad de Navarro, con una tienda de abarrotes, ferretería, gasolinera, museos, oficina de correos, bancos, hospital, pequeños centros comerciales y varios restaurantes.
Navarro, también conocida como tierra de los convencionales argentinos, es un oasis cultural rebosante de impresionantes habilidades en toda la música folklórica y de baile.
¡Mira nuestros videos!
Contact: 
info@gaia.org.ar 
(+54-9) 2227 552 554
Please indicate you saw this listing at EcoProperty.ca.