Organic Vegetable Farm for Sale
Turnkey Organic Farm for Sale / with aquaponics/bioponics system

Prince George, BC, Canada
www.northernbioponics.ca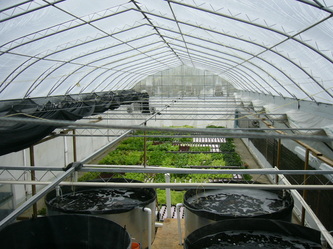 Because there is no successor, and we as future grandparents are not any good if we are thousand+  kilometers away, we decided to sell our life's work.
------------------------------------------------------------
UPDATE!! PRICE REDUCED!!! Last chance to buy a turn key aquaponics/bioponics farm! The 'doors will close' 31.May2019.
We had many people who were looking for a kind of showhome in the country within a park and an easy million $ side income - sorry we don't have any of that!
We had our farm listed for a while now but this is now the last chance to get a turn key aquaponics/bioponics greenhouse with fish stock!! 
However, the residence and land will be available after 31.May2019 with the option to buy the complete equipment of the aquaponic/bioponic system and/or greenhouse and/or  solar/biomass heating equipment. If it is not of interest the complete greenhouse/all equipment, complete solar heating and biomass boiler setup will be removed from the property.  Please contact regarding details/pricing.

------------------------------------------------------------
FOR SALE a fully operational and working turnkey aquaponic/bioponic farm wiht everything. An instant nice income 12month/year including a well established customer base. All our customer like to see if the farm would continue. Lots of room to expansion and many possibilities which can be grown and processed.
The property size is 19.9 acre located northwest of Prince George, BC
Residence size 1600+ sqft with 4 bedroom/ 2 bathroom, upgraded insulated outside walls plus low-e windows plus.....
The well established bioponic/aquaponic system include a 30'x96' double poly gutter connected greenhouse which is housing the complete system and an attached building (head house 30X33').
The commercial greenhouse has a well insulated North wall. The 'gutter-connection' allows the possibility for an easy expansion to attache another bay!
The aquaponic/bioponic system is running 12 month a year! Constantly stocked with 10k+ pots with lettuce, herbs etc. which allow harvesting several times a week with up to 80kg of lettuce, basil and herbs. There are ~ 3k+  Tilapia in the fish tanks plus breeding stock. The breeding stock can generate thousand of fry every year. Many tons of Tilapia can be produced yearly.
The whole system is holding a total of ~ 75+ m3 of water. The automatic filter system and bio-reactor provide the necessary water quality for the fish and enough nutrient for the plants. No waste is produced or discarded it is a complete closed system where plant leftovers from the harvest and fish waste solids are 'recycled' in the bio-reactor. The bacterial system of the bioreactor provide the nutrient for the plants.
Just evaporated water is topped up! Fish feed is the input, and vegetable and fish are harvested. The fish feed is produced on site every week with only organic ingredients and insect protein. This system is NOT running with commercial Tilapia fish feed!!
All grow media and pots are recycled and reused!!
It is getting very close to total sustainability. With a small photovoltaic system the aquaponic/bioponic system can go completely off grid!
In regards to the business part the customer base is very solid and has increased every year since we started. We sell all we can grow! The revenue of the business provide a good family income and all the vegetable you can eat.
The heating/cooling system is a combination of thermal solar – biomass boiler and passive geothermal cooling/heating with radiator and floor heating.
Spaced over the greenhouse area are 8 geothermal looped holes (75' deep each) which are used for cooling in the summer. For the winter they are used to store the excess heat of the thermal solar system from the summer underneath the greenhouse. This allows a reduced heat requirement for the winter season.
In the winter the thermal solar system and geothermal storage is supported by a biomass boiler.
The greenhouse is set up with additional removable insulation for the winter and shading for the summer.
The solar/biomass heating system is computer controlled and can easily be expanded if required for additional sensors/controlling.
On the north wall of the greenhouse is a 3'X96' aluminum mirror mounted(angle adjustable!) to increase the greenhouse light and allows the 'harvest' of the low winter sun.
Attached to the greenhouse is the insulated 30'x33' 'head-house' which include :
the 750sqft thermal solar system with a 8000 l solar buffer tank. The thermal solar system is used to heat the whole greenhouse and bioponic/aquaponic system from ~ end of March till Oct.
the 85kW fully automatic biomass boiler (Viessmann-KÖB wood heating systems) which can be operated with wood chips, sawdust, wood shavings, pellets or manually with cord wood. In automatic operation it is loaded by an automatic auger system from a storage silo. The biomass boiler is interconnected with the solar system and a heat exchanger. The system is setup to be able to heat the residence too!!
the BC government inspected and approved fish processing room(fully equipped!)
office space + room for workshops/agri tourism etc. (partially finished)
lab space (partially finished)
the packaging area
the fish feed processing area(as mentioned we make our own organic Tilapia fish feed every week!!)
the storage for supplies etc.
space to breed Black Soldier Fly Larva (insect protein for the fish feed)
The property has:
19.9 acre with ~ 16acre in trees/bush which can provide the complete fuel for the heating requirement for the whole farm. AND enough room to expand the vegetable garden/field or greenhouse.
An extended vegetable garden (~1/4 acre) which allow growing of all kind of additional vegetable/root vegetable for the whole family plus enough to sell a good portion at the farmers market.
A grain field (currently ~1/2 acre) for grain/legumes – bread backing, chicken feed and fish feed.
Several solid build outbuildings:
16x24 'zero energy' Chicken house with workshop space. No heating is needed! Extended insulation of walls and sealing made of recycled/fine shredded Styrofoam. Rodent save!! Plus additional floor heating supported by a compost heater. Metal Roof!!
16'X24' firewood/storage shed. Metal Roof!!
24'X24' storage shed for wood chips (greenhouse biomass heater) and room to store machinery. Metal Roof!!
8' X 20' storage container - nice dry (woks well for the grain/feed)
Solid outdoor bread baking clay oven ~3'X4'. Metal Roof!!
Plus a separate 12'x48' greenhouse (hoop house in the vegetable garden) to grow additional tomatoes, peppers and cucumbers etc. during the summer season for canning and the farmers market.
Plus a 'lean on' 12'X96' single poly greenhouse attached to 30'x96' gutter connected greenhouse – just for summer production!
Other:
The property has it's own water well(new well pump installed 2012).
The Farm has a valid Aquaculture License, a fish Processing License (from BC Ministry of Agriculture) and a food safety plan.
The property has 'farm status'! Please note: With the farm status here outside the city limits there is no building permit required for any building which is related to the farm operation! There is enough room to expand and diversify the crop of the greenhouse with another bay for e.g. with tomatos, cucumbers etc.
The whole bioponic/aquaponic system including the support for heating etc. is setup and built straight forward. It is easy to operate. However help and training regarding how the system works and how to run everything will be provided. There is NO charge for the help we provide to train and help the new owner to get started!!
Sale Price:  was $495,000 CAD    NEW PRICE : $475,000 CAD

Please check out our website for photos and further information:
www.northernbioponics.ca
Due to many who just visit out of curiosity and to get a tour through the aquaponic/bioponics greenhouse — SORRY we are REALLY ONLY looking for serious inquiries from buyers!! If your intention to buy is serious and you like to visit please provide a letter of credit/confirmation from your bank/financial institution that sufficient funding will be available.
NOW !!   More information under: www.realtor.ca   # R2333034

Please  contact :
phone: (250) 967-0277
or e-mail: matthias(at)northernbioponics.ca
OR contact
Jennifer Gowan
RE/MAX Centre City Realty,  Prince George, BC
250-640-4642
or e-mail: jengowan(at)outlook.com
Please indicate you saw this listing at EcoProperty.ca.