*** SOLD ***
Home & Garden Property for Sale
Nature-Garden Property
Ladner/Delta, Metro Vancouver, British Columbia, Canada
Rare half-acre mature garden property for sale in Delta, the Green Heart of Metro Vancouver. This comfortable home with detached office is a 10 minute walk along the dyke to Ladner Village with its charming shops and artisan summer market. Year-round great garden appeal.  Plenty of recreational opportunities available for kayaking and canoeing, with many walking and cycling trails nearby. Golf courses, boat launch and marinas also nearby.  A year-round mecca for birders, with Ladner often claiming top stop at the national Christmas Bird Count.  Skiing on North Shore Mountains less than a one hour commute, with Whistler a three hour drive.  Centrally located: 13 kms from Gulf Island ferries and 22 kms from Vancouver airport.
This property offers everything for wholesome living during these Covid times:  A spacious lot with two separate buildings for home offices, all surrounded by exceptional natural beauty! Offering lots of opportunity to nurture nature and your soul. 
Please enjoy the picture gallery of the country-style home and gardens throughout the seasons:   https://vimeo.com/382235282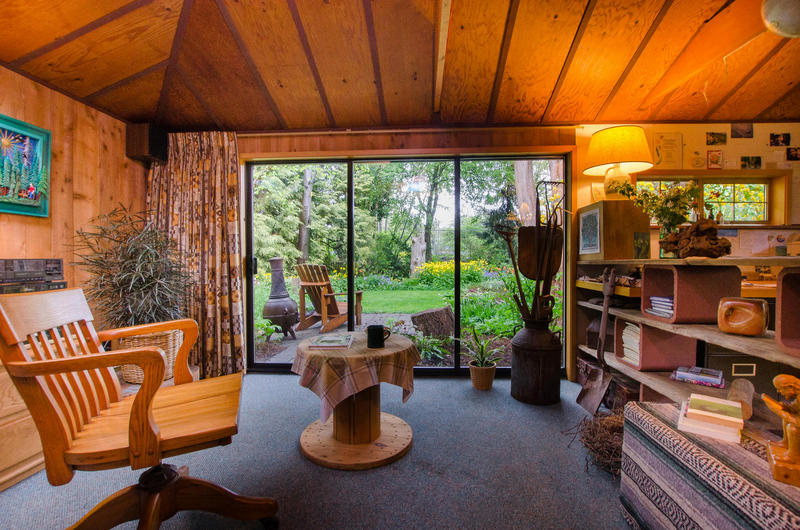 Home and Other Buildings:
This well-maintained energy-efficient 1450 sq. ft. bungalow/rancher features a welcoming, cozy living/dining room, a functional kitchen with birch cabinets, one 4-piece bathroom and a laundry/utility room. There are 3 bedrooms, of which the master bedroom offers an ensuite and French doors opening to a multi-level curved deck.  
The original home is of solid concrete brick construction showing high quality masonry and use of solid timber for rafters and flooring.  It is insulated to an R-2000+ standard and comes with a brand-new 98% efficiency furnace, resulting in low utility costs. Renovations were based on recommendations from an energy audit: new thermal windows with 1 ft. deep wooden sills; country-stone gas fireplace centrally located (inside wall); much BC wood is used  throughout:  warm Yellow Alaska Cedar for paneling in the living room with Douglas fir used for windowsills.  Pine wainscoting in the hallway and Western red cedar in some ceilings; widened outside walls (extra insulation) with cedar board & batten siding; the roof was renewed in 2011 with plywood underlay.
Much attention has been paid to detail, with artistic/natural touches throughout, creating a Gulf Island ambience. The picture windows invite the gardens to become part of the inside living space.  The hallway skylight brightens up the home    The house is naturally cooled in summer and feels cottage-cozy in the winter. The clean crawl space is very well insulated. A covered deck runs along the back of the house and showcases a woven wall with planter visible from the kitchen window, and storage space for shoes and boots. 
The detached 600 sq. ft. building features a 340 sq. ft. office/studio with 6" insulated walls and wooden ceiling with rafters for a cabin-feel.  Triple panel patio doors open to stone patio with a wonderful garden view. This presents a great opportunity to work from home.   The other half of the building features a 260 sq. ft. workshop with workbench and storage shelves.
Another 100 sq. ft. hobby/cabin outbuilding, nestled among Western red cedars beside the curved deck, features a loft, skylights and windows, and is insulated with electrical service. This building, too, can be used as office or hobby space. 
Plenty of covered storage space with two sheds and extended overhang storage for kayaks/canoes. Large composting bins in operation.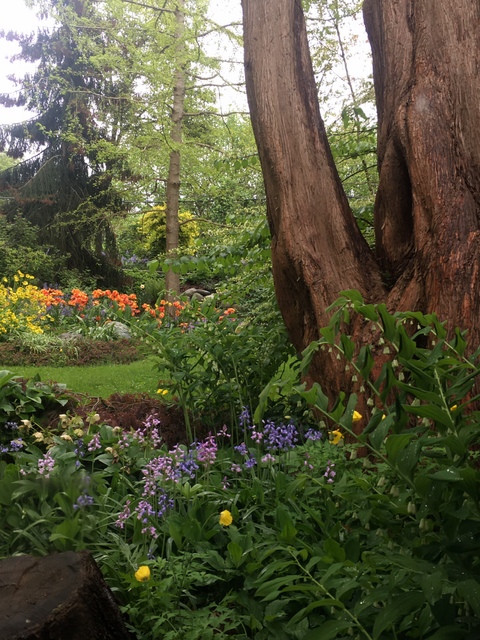 Property
With its many garden-rooms, this property offers a variety of habitats for wildlife and hence holds great biodiversity value. It is a year-round nature-lover's paradise with a dozen mature trees and over 50 smaller ones. The trees create ever-changing shafts of sunlight.  Songbirds make use of the layered landscape which provides food, water, shelter and places to raise young. Barred owls often roost in the cedars, while bald eagles can be seen in the cottonwoods beyond. Bats are present during summer evenings, and it is dark enough to observe some stars on a clear night. Anna's Hummingbirds feed on a variety of winter-flowering shrubs, and nest most years in the yard, as do wrens, chickadees, robins and bushtits. As a water feature, the two stone gurglers offer water for drinking and bathing to many birds.  Neighbouring cats are discouraged, and dogs that are walked along th 300 feet long sidewalk do not enter the gardens. 
This spacious property's intriguing 0.42 acre triangular shape allows for stunning long garden views. As the gardens extend past the property line and includes the boulevard strip between the sidewalk and the road, the gardened areas come to over half an acre.  Native plants are part of the extensive but low-maintenance woodland gardens and bog garden, which are designed using nature-scape principles. Organically maintained vegetable garden comes with apple trees and blue berry and red currant bushes. Frogs are heard in the waterway which is flanked by native riparian vegetation, and bats can be seen darting through the air among the large trees on summer nights. 
The gardens consist of established plant communities, which crowd out undesirable plants and hence require minimal weeding.  Much leaf-litter is left on the ground as these provide for the beginning of the foodchain and the building of soil; some areas are mulched with woodchips.  Weeding is not a significant garden task: pruning is the main garden task, while some fast-growing garden plants in check.  During fall there are leaves to be raked off lawns and pathways, while snow removal from the long sidewalk is an occasional winter task.  Trees are maintainted by a professional company.  In autumn seed pods from Rudbeckia are left to feed birds naturally, and Japanese Anemome stalks produce fluff the following spring to line nests. Bird feeders are only out in fall and winter. The public sidewalk needs to be maintained for the many who jog/strollsby and enjoy viewing the  ever-changing gardens. Pots and planters accents are changed for a seasonal display in highly visible spots. The vegetable garden requires more care, obviously, and here many cole plants are left to self-seed and provide early spring greens.  Large parts of the naturescape gardens carry themselves throughout the year!  During summer dry spells some parts of the property are serviced by sprinklers.  This property does not have an irrigation system as these systems invariably lead to unnatural overwatering resulting in weak plants and a lot of extra pruning.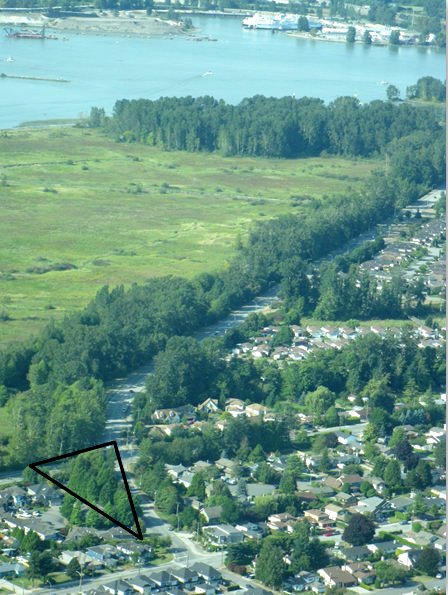 Surrounding Area:
Ladner lies in the municipality of Delta, 30 km from downtown Vancouver.  This property is adjacent to the Ladner Marsh Wildlife Management Area, south of the Fraser River.  Delta offers numerous natural attractions along its many waterways. It is situated near the end of the Fraser delta along the coast of the Salish Sea.  It enjoys a mild maritime climate with significantly less rainfall compared to adjacent municipalities. The air is very clean. 
The village of Ladner is surrounded by dyked farmland within B.C.'s Agricultural Land Reserve, next to marshes with islands such as Westham Island (Reifel Bird Sanctuary), and a major preserved bog (Burns Bog). The entire river delta with its foreshores and uplands with farmland is a globally important stop-over for migratory birds on the Pacific Flyway. In fact, it is known as Canada's #1 Most Important Bird Area (IBA). See:  http://www.ibacanada.ca/site.jsp?siteID=BC017 .
Delta has the distinction in Canada to be the municipality that grows the most variety of food crops!
Along nearby Boundary Bay, snowy owls can be seen most winters, while tens of thousands of snowgeese from Wrangle Island (Russia) overwinter in the Fraser delta. The area is also known for raptors, from barn owls to harriers, hawks and bald eagles. The web-site of the Delta Farmland and Wildlife Trust offers more insight into the many birds of our region: www.deltafarmland.ca , this page is about local wildlife:  https://deltafarmland.ca/resources/farmland-wildlife/
The Delta Naturalists' Society has created a brochure on Delta birds and local birding: https://www.deltachamber.ca/birding.html
Website for local nature club: http://www.bcnature.ca/clubs-and-notices/regions/lower-mainland/delta-naturalists-society/ .
This property presents . . . . . 
. . . . the opportunity to live a sustainable lifestyle!  Continue to provide habitat for wildlife, take care of the many trees that sequester carbon, grow some of your own veggies and shop locally, drive a super efficient car, engage in the many nearby recreation opportunities, and enjoy staycations with nature at your doorstep.    Your ecological footprint will be greatly reduced!
The spaciousness offers many opportunities for hobbies and gardening.  The various gardens require work, but of all garden styles, naturescaping is relatively low maintenance.  The lawn areas are easily mowed, and the plant collections are not groomed / manicured. Naturescape principles are further explained below.  If desired, naturescape garden services and/or coaching can be provided complementary for the first year. Living on this property, close-up to nature, is a fascinating, ever-changing experience.
Because of set-backs and its unusual shape, the property is not sub-dividable. A second story can be added to the main house as it is of solid brick construction.  There may be a possibility for renovating the office/studio/workshop into a coach house over time, as population pressures on the Greater Vancouver Region increase (check with Delta). 
This is nature at your doorstep, while being close to all the attractions big city life offers: the best of both worlds as well as an opportunity to live a lifestyle that treads lightly on the planet. 
---
CONTACT
For more information on this park-like property featuring a "cottage in the woods" with separate studio, 30 km south from downtown Vancouver, please contact:
*** SOLD ***
---
Front view:
Living room with fireplace: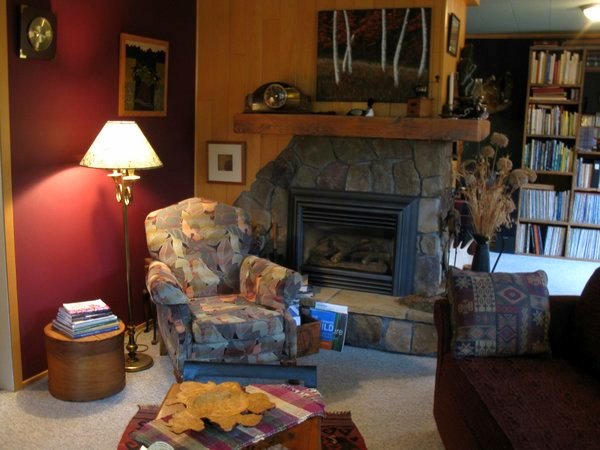 Home office: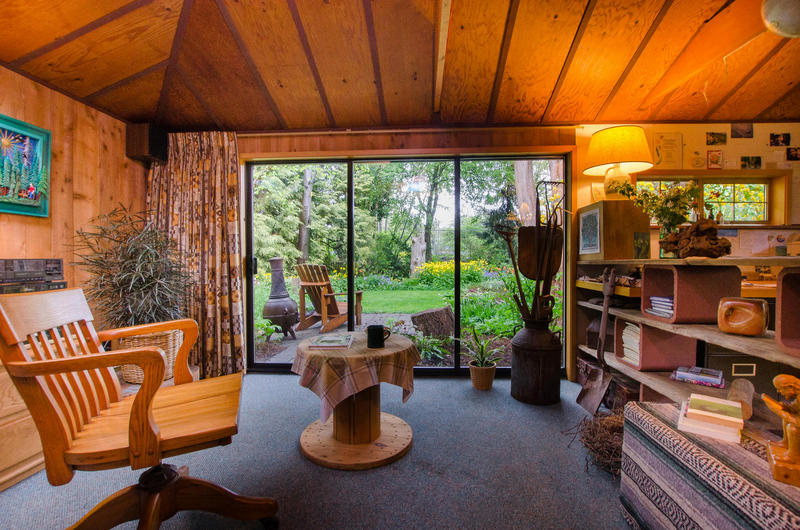 Bog garden:
Bird's eye view: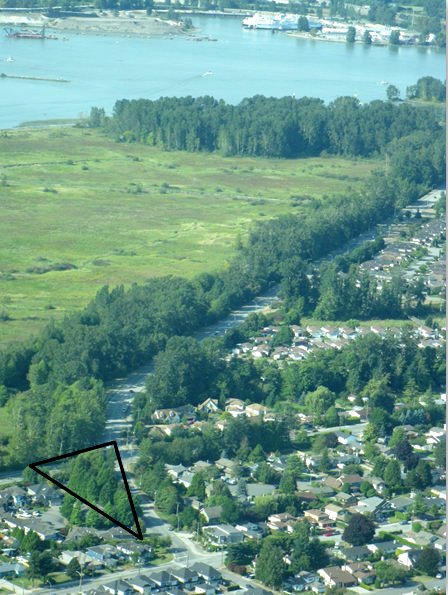 Floor plan: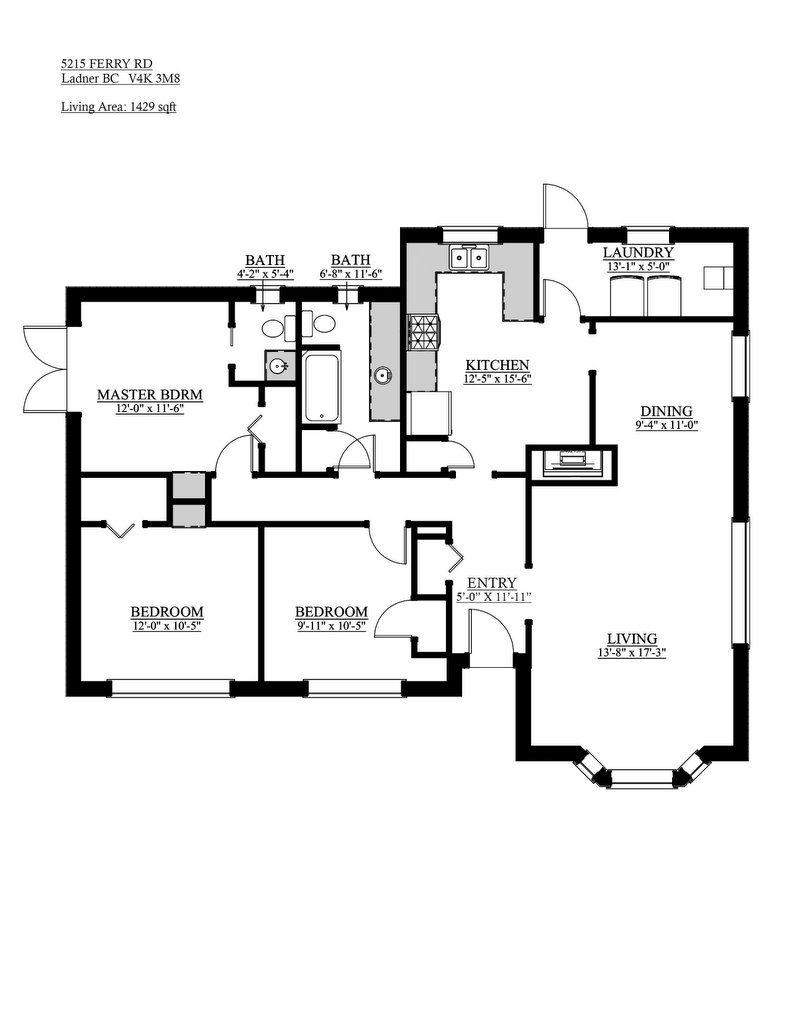 Ladner, Delta B.C.:  (Google map)
This community of 20,000 offers a village feel with clear boundaries as it is surrounded by farmland (Agricultural Land Reserve)
Delta is Metro Vancouver's green heart with diverse natural areas: delta of the Fraser River, marshes with islands and Reifel Bird Sanctuary on nearby Westham Island, Burns Bog, while Boundary Bay is Canada's most Important Bird Area (IBA), and the Salish Sea is nearby.
Recreation: cycling on dykes, canoeing / kayaking in the adjacent Ladner marsh, walking trails, marinas for boat launches - all easily accessible from the property
Summer open-air farmer / artisan market
Many shops and services in old village centre: health food store, car repairs, hardware store, small engine repairs, credit union and banks, post office, pet clinics, legal and medical services, restaurants. No big box stores; London Drugs the only large store besides grocery chains.
Historic waterfront to be re-developed as a tourist destination
Golf course nearby, North Shore mountains 45 minutes away for hiking or skiing
Pure, fresh air from the ocean and the marsh
Local Delta Hospital and hospice facility
Ladner Leisure Centre has swimming pool, ice arena and gym
Two elementary schools located near the property as well as two private schools
30 km from the big city attractions that Vancouver has to offer
Close to ferries that offer recreational opportunities on the Gulf Islands and Vancouver Island (by vehicle or walk-on with bicycle)
Situated in Sunny South Delta: less rain than Vancouver; considerably less rain compared to North Vancouver/North Shore Mountains.
Property:
Half acre property along the dyke adjacent to Ladner Marsh Wildlife Management Area
Spacious, green setting, with Gulf Island ambience
Naturescaped gardens offering amazing experiences in every season
Mature trees and younger trees – over 60 in total
Extensive plant collections: woodland gardens, bog garden, vegetable garden, riparian vegetation along waterway
Deep, long garden views with ever-changing dappled sunlight creating interest all day long
Incorporation of native plants with garden (exotic) plants
Free of English ivy, broom, black berry and Japanese knotweed; no gouts weed, periwinkle or silver nettle (lamium)
Property slopes and drains towards River Road drainage ditch - virtually no standing water even during heavy rainfall
River Road ditch is home to the green frog (Rana clamitans)
Pesticide free garden maintenance
Summer sightings of bats
The night sky can be observed when it's a clear night
Healing fragrance of balm of Gilead in early Spring as nearby cottonwoods along the edge of the Ladner Marsh open up their buds
Much of the year, barred owls reside during the day in the cedar trees; flocks of robins have found shelter from winter storms under the large trees; bald eagles can be viewed in the cottonwood trees along the dyke
Some of the other birds that visit the garden: Bewick's wren, robin and varied thrush, bushtit, humming birds, chickadee, redwing black bird, stellar jay, king fisher, towhee, cedar waxwing, gold and house finch, Wilson warbler, brown creeper and nuthatch, junco, fox and crown sparrow; flicker, downy and (on occasion) pileated wood peckers; eagles and great blue herons nearby along dyke and marsh
Almost every year humming birds, bushtits and wrens make their nests on the property
Parts of the gardens are sheltered from major winds
Haven for native orchard mason bees (192 cocoons recorded one top year)
Apple trees (3), red currants (2), rhubarb (2), blueberries 
No hydro lines along the 300 foot frontage with the road interfering with tree growth
All trees professionally pruned according to ISA standards
Bus stop nearby provides easy connection with Ladner Bus Exchange and further connections to Richmond / Vancouver and Surrey
Plant Collections:
Native trees: 60+year old multi-trunked Western red cedars (9); Western hemlock (2) and mountain hemlock (3); weeping Alaska yellow cedar (3); vine maples (numerous throughout); Saskatoon berries; Cascara; Highbush cranbery; Trembling aspen (3); Douglas fir (young); dogwood.
Exotic/ornamental trees: Three ancient trees known from fossil record: monkey puzzle tree, dawn redwood and ginkgo; old hazelnut trees (4) are remnants of the original 1930's nut farm; 3 yellow-variegated varieties of Western red cedar; upright willow (4); deodor cedar; Japanese larch; ornamental pear; Oriental spruce; English hawthorn; mountain ash (2); maple tree varieties: red maple (clump of 5 stems), Amur maple and English hedge maple; large river birch clump; Swedish aspen; pin oak (2); Chinese empress tree (Paulownia); dove or handkerchief tree (Davidia); Chinese Kousa, Cornelian cherry and Eddie's White Wonder dogwoods; Portuguese laurel; weeping blue Atlas cedar as a major central garden feature; Carolina silverbell (Halesia); Japanese snowball (Styrax); sumac. 
Woodland gardens:

native plants: ferns (sword, maiden hair, bracken, spiny wood, deer, creeping oak and lady); twisted stalk; trillium; Pacific bleeding heart; piggy back plant; fringe cup; miner's lettuce; false Solomon's seal; chocolate lily; goats beard; false lily of the valley; salal; dull Oregon grape; huckleberry; high-bush cranberry; red flowering currants; Devil's club; Indian plum; snowberry
non-native plants: ferns (Japanese painted and Japanese autumn, Alaskan soft shield; and several other exotic ferns); over 12 varieties of hostas; varieties of viola and primula; European ginger; hardy cyclamen; woodruff; Solomon's seal; rhododendrons (4); hellebores (3 varieties); foxglove and silver dollar as self-sowing bi-ennials; Japanese anemone.

Bog garden: skunk cabbage; yellow monkey flower; yellow sedge; Joe Pye weed; Fillipendula; Rodgersia; Royal Fern; Astilbe; Brunnera and many others.
Sunny garden spots: tree peony; winter flowering heathers; Doronicum with tulips; hydrangeas; campanula varieties; carpet roses; Oregon grape; chokeberry (Aronia); summer sweet (Clethra).
Winter interest: Mahonia "Charity"; Himalayan sweet box fragrant at front door in January; English, Corsican and bears' foot hellebore; Jalena witchhazel; Lonicera fragrantissima; lung wort varieties; silver dollar; paperbark maple clump; catkins on hazelnut trees; drifts of snow drops; Daphne odora; late-winter flowering Rhododendron "Rosamund"; crocus; Pieris.  The many fragrant winter flowering shrubs are the reason for presence of the over-wintering Anna's hummingbird on the property.
Vegetable gardens have been covered in winter with plastic to allow for winter greens to be harvested.
River Road ditch riparian plantings: salmon berry, red Osier dogwood; alder; red elderberry; thimble berry; hardhack; beaked hazelnut
Vines: clematis (3); trumpet vine; climbing hydrangea; Virginia creeper; Arctic kiwi; winter flowering Jasmine; honey suckle (2)
Gardens are virtually weed-free as they are chock-full of plants and heavily mulched with woodchips and leaves. Seeds from berries that birds drop under the trees do occur.  Maintained in naturescape style which allows for natural seeding and spreading of plants. 
No deer nor rabbit problems; invasive squirrels are removed. 
No hedges to shear
No dogs have roamed the gardens; outdoor cats are discouraged in this haven for birds.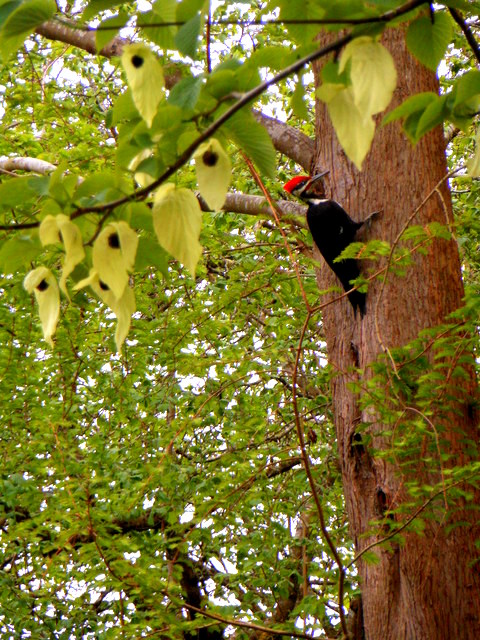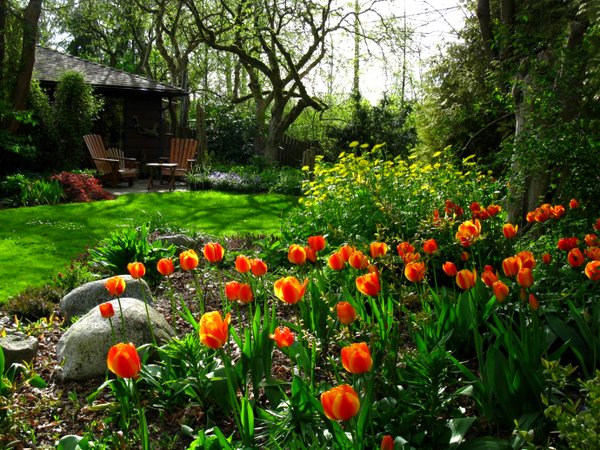 Brackets of handkerchief tree: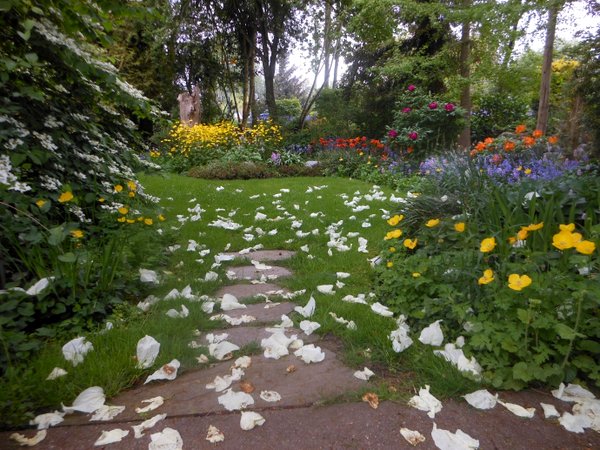 Please indicate you saw this listing at EcoProperty.ca.