LAND AND GREEN POWER SITE
FOR SALE
Englehart, Northeastern Ontario (Timiskaming District, south of Kirkland Lake)
This 148-acre private property on the Larder River near Englehart Ontario offers a rare chance to purchase a spectacular building site and the development rights for a run-of-river (no dam) hydro project with a 40-year government contract to supply grid power at a fixed price. Projected contract revenue of $70 million.
The site can also serve as an off-grid eco-retreat or green tourism venture, since it has a Provincial waterway Park a few kilometers upstream, several kilometers of pristine river and rapids downstream, and is surrounded by Crown land. Or it could power a licenced cannabis growing operation, commercial greenhouse, etc.
Selling property, related company and development rights for $400,000 due to health reasons.
40-year Ontario Feed in Tariff contract in place, with (escalated) base price of $.13 cents/kwhr. Projected annual revenues of $1.77 million; cumulative 40-year gross revenues approximately $70 million
Projected annual energy generation 13 million kwhrs; Design gross head: 42 meters; average design flow: 9.5 cm/s; average annual capacity factor: 50% (OEL/Hydrosis)
Virtually all environmental assessment work completed (eg fisheries, community consultation) by Bluetech/Ottawa Engineering. Minimal EA cost and risk going forward.
Seller owns key parcel of private land (148 acres), all development rights, and 40-year FIT contract (via Wendigo Power Partnership Inc.)
Connection to Hydro One grid approved (initial CIA); 3 Mw reserved for project on HONI transformer station.
No other private land or private buildings within 1 km of powerhouse location. Canoeists use upstream provincial waterway park. Minimal public opposition expressed since no flood zone will be created.
Key private parcel adjacent to paved Highway 624 at hamlet of Marter; intake and penstock area accessible by public gravel road. Large solar project on project site also feasible.
Due diligence, capital cost estimates, site inspections etc. at cost and risk of potential purchasers.
Contact:
Paul McKay
paul@paulmckay.com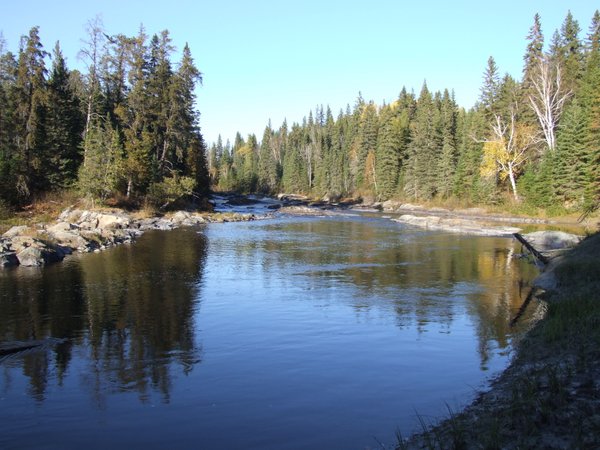 Please indicate that you saw this listing at EcoProperty.ca.