HOME FOR SALE
2 Bedroom Home for Sale in Heddlestone Co-housing Communtiy
Nelson, British Columbia
Our lovely house at The Heddlestone Co-Housing Village near charming Nelson, BC, is coming up for sale.
The house is 2 bedroom, 1 bathroom, 850 square feet. Hardwood floors, high ceilings, lots of wood accents, storage crawl space. We just put up a beautiful fence and gate around the lush, green backyard.
This community was just built 5 years ago so all the houses and common house are modern with lots of beautiful features.
Comes with co-ownership in the Common House and 26 acre property backing onto the forested mountainside at the top of Heddle Road, with hikes up to a big rushing creek.
The land here is South facing and over the last few years the permaculture gardens and fruit trees are growing beautifully.
Heddlestone Village Co-housing is a vibrant multigenerational, multi-lingual community. The common house is 4,700 sq ft, modern and beautiful. There are shared meals 3-6 times per week and other community events ongoing. Check out the website for more info on the community.
We are asking $395,000.
More photos available upon request. Serious inquiries only, please.
Contact: Satsiri, 4satsi@gmail.com   250-505-2575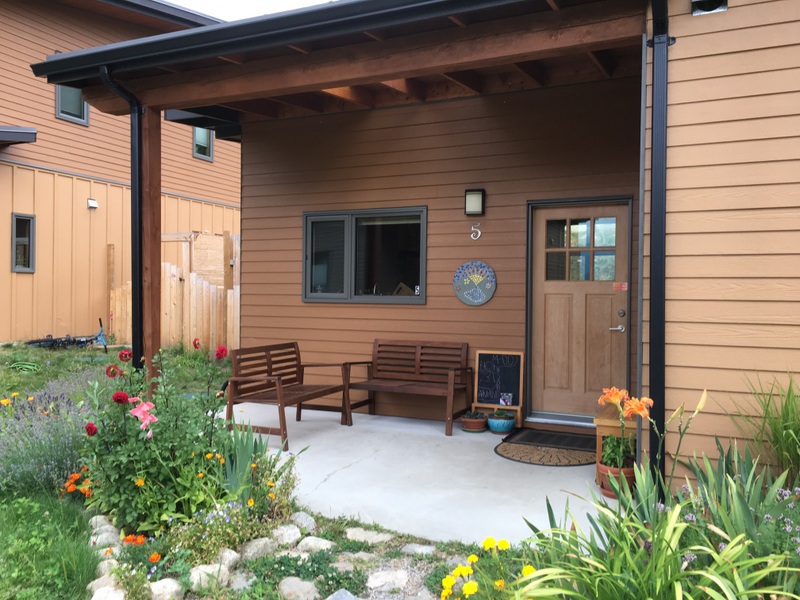 Please indicate you saw this listing at EcoProperty.ca.