OFF-GRID HOME AND PROPERTY FOR SALE
Knowlesville, New Brunswick
Nestled high-up on the ancient appellation mountain range, amidst a budding community of organic growers, this large off-grid home comes with all the amenities and conveniences of the city home while offering the tranquility of the country. 
This property could be used as a family home, divided between family and friends and/or used as a starting point for your own Ecovillage.
The main-building:
2,500 sqft,
4 bedrooms,
3 bathrooms, 
Open concept kitchen/dining,
400 sqft yoga/meditation studio on the third-floor.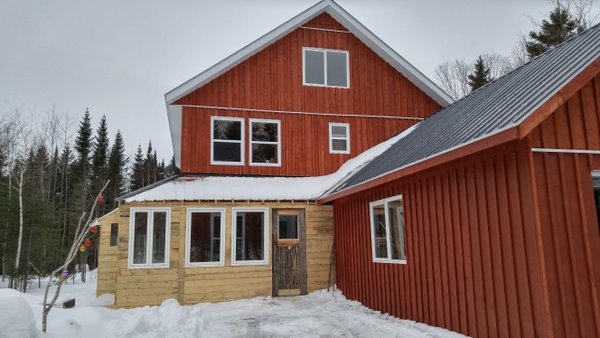 This 2 year old home has an energy-conserving design, with it's long axis oriented to the south.
Super insulated with foot-deep walls of dense-packed blown-in cellulose. 
Steel roof, insulated with dense foam board over mineral wool batts.
Cement slab foundation on top of a raised gravel pad insulated from under with dense foam board and imbedded with pex for option of future in-ground radiant floor heating.
3,000 watt solar assembly with 16 batteries.
Amish-built wood cookstove for combination of heating, cooking and hot-water.
Attached garage/workshop.
Two woodsheds; one of which is attached to and accessible from the garage
Attached 3-season solarium with a clear roof on the South-East side of the building.
New well.
New septic tank and field.
A newly constructed 480 sqft gathering-place/guest-house/workshop/maker's space,
All solid wood construction with 33 windows and 2 large sections of clear roof panels to allow lots of natural light.
A rustic 650 sqft cottage with a large outdoor Summer kitchen/storage.
A 4.5 acre cleared space surrounded by the forest. The rest of the 50 acre property is densely wooded.
60+ apple trees of different ages just on the first 300 feet of front part of the property with more still undiscovered :)
31 raised beds newly installed with soil prepared for this year's planting season.
Price:
The main-building plus the 480 sq ft gathering-place/guest house, the 31 raised-bed garden and roughly 5 acres  - $340,000.  
The 650 sq ft cottage with outdoor kitchen/storage and roughly 45 acres  - $210,000
Purchased together - $500,000
Additional photos can be viewed on our website: www.andev.xyz
Contact:
Serious inquiries only, please.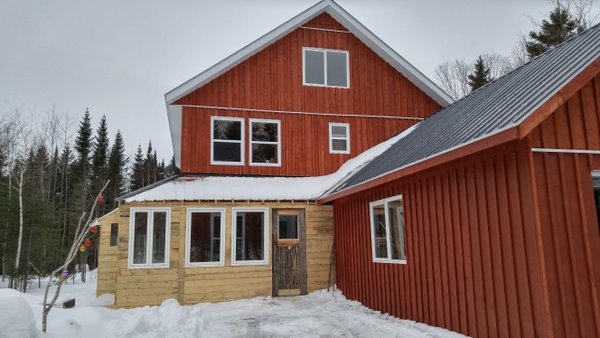 Please indicate that you saw this listing at EcoProperty.ca.