LAND FOR SALE
Off-grid Land Cooperative Share for Sale
Slocan Valley, British Columbia
Land Cooperative Share for sale. If you are looking for a pioneer style of life, with privacy and abundant nature, look no further. This 3.67 acre homesite could be yours with your own off-grid electrical system and gravity fed water, 13 established raised garden beds, raspberry and strawberry beds, greenhouse, root cellar and more.
No utility bills and a Sweetheart wood cook stove to keep cozy in the winter. Mulvey Creek Land Cooperative is 235 acres of woodland and meadows next to Valhalla Provincial Park.
This site has 2 cabins. One 16' x 32' built in 1996, the other 20' x 16' built in 2009. Off-grid electrical system consists of six 12 volt silicone batteries, trace inverter. Xantrex Truecharge 2 charger for generator, Outback charger for solar panels, Trimetric display unit, 2 circuit breaker fuse boxes. This is a right to occupy an unsubdivided portion of land. Unmortgageable. Must have cash and apply to be a member involving a trial period of typically a few months. For more info and pictures go to realtor.ca MLS# 2431461
$115,000
Contact: Christina Harder
Fair Realty Kootenays
250-777-3888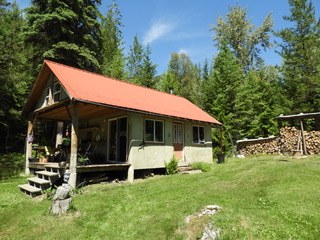 Please indicate you saw this listing at EcoProperty.ca.