Off-grid Land Cooperative share with cabins  only $118,000 
Slocan Valley, British Columbia
Land Cooperative Share for sale. We are offering, a beautiful, rural, private and wooded home site.  Mulvey Creek Land Cooperative is 235 acres of woodland and meadows next to Valhalla Provincial Park. This is a 3.67 acre homesite with its own off-grid electrical system and gravity fed water. There are 13 established raised garden beds, including raspberry and strawberry beds in a deer fenced enclosure, greenhouse, root cellar and more.
This site has 2 cabins. One 16' x 32' built in 1996, the other 20' x 16' built in 2009. The larger cabin has a Sweetheart wood cook stove.  To gain membership of the land cooperative usually involves spending a trial period of at least three months living on the cooperative and the members getting to know you. As shares in the cooperative are purchased, not land, one cannot get a standard mortgage.   Out of 9 home sites occupied, there are currently three families with children on the co-op, and the co-op members are into growing food, home schooling  and living more sustainably.
$118,000   (cash only)  not  mortgageable
Contact: Leela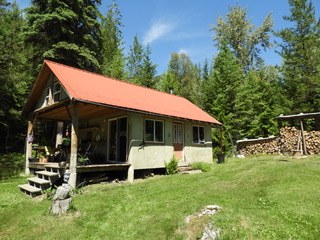 Please indicate you saw this listing at EcoProperty.ca.