Hybrid Earthship Off Grid Home & Property for Sale
Clear Creek, Norfolk Township, near Lake Erie, Ontario, Canada
Passive Solar home professionally designed and carefully built 8 years ago to operate totally off the grid with energy costs below $100.00/month! Featuring approx. 2800 sq ft living space,1.5 storey, 1+2 bdrms + ensuite upstairs, 3rd bdrm on main level beside 4pcs bath. Open concept with large eat-in kitchen/dining area, LR & Atrium with exotic plants/flowers. South wall is mostly large plate windows with adjustable covering to regulate capture or deflection of suns energy into thermal mass of concrete/ceramic floor. Super insulation (R32-R75) with solar chimney promotes natural air circulation, year round! Detached 28`X40`steel clad shop/garage includes wood stove, new Rolls Surett battery storage, inverter control equipment and 16Kw diesel powered backup generator. 12.2 acre lot has some bush and beautifully landscaped lawns, organic grown flowers and vegetable gardens around main buildings. Only 2km from Lake Erie and 30 km to shopping in Tillsonburg or Simcoe to the east. All dimensions & taxes are approximate
MLS® #: 123911
Price: $674,900 
Status: Active
Major Area: NC
District: NC
Sub-Dist: CC
Prop Is: For Sale Only
Legal Descr.: PT LT 3 CON 7 HOUGHTON PT 1, 2 37R2270 NORFOLK
Address: 306 7TH CONCESSION RD ENR
City: CLEAR CREEK, N0E 1C0
Sd/Rd: East
Near: CULTUS
Nearest Town: TILLSONBURG 30KM
Prop. Size: 12.2
Acreage: 11+ acres
Square FT/M: +/-2,800 sq.ft.
Zoning: A1
Taxes: $4100 (2018)
Possession: TBA
Type: Residential
Type of Dwelling: 1-1/2 Storey
Parking: Dbl Garg Detach, Double Drive, Auto Door Opener
Exterior: Aluminum, Stucco, Stone, Steel Roof
Foundation: Slab
Basement: None
Basement Dev:
Heating / AC: Energy Efficient, See Remarks
Fuel: Wood
Flooring: Hardwood, Ceramic, See Remarks
Fireplace 1: 1 Free Stand Metal Wood Fuel
Fireplace 2: 1 Woodstove Wood Fuel
Rental Equipm.: None
Water: Multi filtered rain water from 5,000 gal cistern
Sewer: Oversize Septic Bed
Indoor Features: Refrigerator, Freezer, Stove, Washer, Atrium, Water Heater Owned, Carbon Monoxide Detector, Garage Door Opener, Smoke Detector, Window coverings.
Site Influences: Treed Lot, Landscaped, Patio(S), Shopping Nearby, Golf, Hobby Farm
Outdoor Features: Insulated & Heated Workshop, Storage Shed, See Remarks
# of Rooms: 12
Bedrooms: 1 + 2
Bathrooms: 1 + 1
# of RI Bathrms:
Ensuite: Yes
Age: 8*
SPIS: No
Handicap: No
Solicit Seller: No
Energy Star Cert: Everything meets or exceeds electrical / mechanical codes
Special Conditions: N
Add. Sale Info:
Floor Room Size Floor Room Size
M FO 12.0x13.0 M LA 8.0x15.0
M KD 14.0x33.0 2 MB 12.0x12.0
M UT 11.0x11.0 2 BR 12.0x12.0
M LR 17.0x17.0 2 ST 10.0x12.0
M OT 10.0x25.0 M B4
M BR 12.5x13.0 2 E2
Improvements: 0 Down Payment:
Listing Office: ROYAL LEPAGE R.E.WOOD REALTY, BROKERAGE :
Photo Compliments of: ROB KOPPERT, Broker of Record: 519-532-4355
E-mail: rkoppert@royallepage.ca
Company Name: ROYAL LEPAGE R.E.WOOD REALTY, BROKERAGE, INDEPENDENTLY OWNED AND OPERATED: 519-842-8418
Website: http://www.woodrealty.ca
Photo E. & E.O
Hybrid Earthship Home Totally Off Grid!
Here is your opportunity to live comfortably completely off the grid in this beautiful, 8 year old, 2,800 sq ft passive solar home. The property features 8.2 acres cleared plus nearly 4.0 acres of hard and softwood bush. There is plenty of privacy on this 12.2 acre mature lot, with this home situated near the northern boundary, well back from a rural paved road in sunny southern Ontario. It is just 2 km from Lake Erie's north shore, 30 minute drive to Tillsonburg or Simcoe shopping centres and 15 minutes to the world famous biosphere of Long Point / Port Rowan, which is also the headquarters for Bird Studies Canada. Port Rowan has shopping for fuel, groceries, post office and a library as well as year round fishing for Lake Erie perch, pickerel, bass and pike. The Sand Hills are only a short drive away and offers great camping, swimming and an excellent golf course for those so inclined.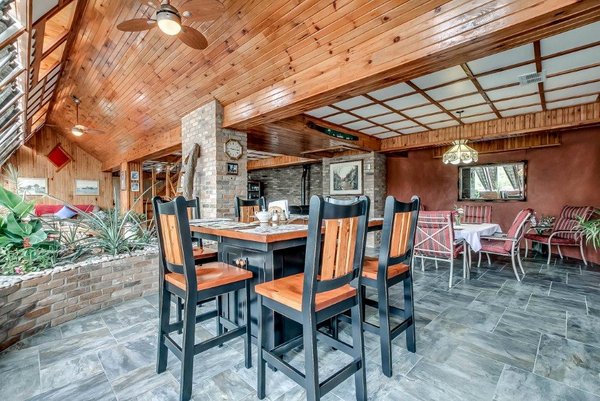 This beautiful open concept home begins with 2 large foyers, one at the west entry way and one at the east. The "welcome feeling" is strong and helps open your eyes to the simple but stunning attention to detail of this well-cared-for home. Plants, flowers and greenery of all kinds flourish, year round in the indoor atrium, which includes an oasis of exotic flowers and plants. Imagine growing peppers, green onions, tomatoes, pineapple, potatoes, lettuce and even your favourite herbs for use any time you wish. The atrium is situated under the huge plate glass windows covering most of the south-facing wall. These windows are purposely angled at 30 degrees from vertical to help admit sunlight into the home. There are adjustable coverings over all windows which control the amount of the suns energy that is absorbed by the concrete slab and Italian ceramic tile on the entire floor. Interior walls are finished with T & G pine with different shades of stain and the ceiling is partially vaulted with cherry wood trim in a box design.

Immediately upon entering this huge eat-in kitchen and dining area, you see an equally large living room and sitting area plus a large 12.5' X 13' main floor bedroom, directly beside the main 4 pcs bath. A large pantry/storage room off the kitchen, a full main floor laundry room and a spotless 4pcs bath completes the main level.

The upper level is reached via a custom crafted staircase situated midway between the master and the upper level sitting room / bedroom, all with custom furniture tastefully matching the stained wood décor. A large closet area and a 2 pcs washroom finishes the description of the upper level rooms.

The oversize (40' X 28') detached double car garage is partly insulated with steel cladding on exterior walls and roof. There is one 8' and one 7' rollup door (both insulated) with auto openers and remote controls. One section at the back which served as living quarters during construction (14' X 20') is now a 4 season workshop c/w air tight wood stove. A fully insulated utility room houses the brand new Rolls Surett battery charging and storage system as well as the Kubota diesel driven backup generator system rated at 16kW of output power. Everything is managed through a control unit, and an inverter which supplies up to 65 amps @ 240VAC power through breaker protected service panels to all buildings. Solar generated electricity powers circulating fans, LED lighting, water pumps, water heaters, appliances and power tools with plenty of spare capacity.

Outdoors, the well established gardens in many locations around the manicured lawns feature perennial plants, shrubs and bushes. The large vegetable garden includes blueberries, gooseberries, strawberries and even asparagus, all grown organically without the use of pesticides or herbicides.

The real testament to how well this professionally designed and built passive solar home works, is the operating costs which are less than $ 100.00 / month, or $ 1,200.00 / year. Actual costs for fiscal 2014, one of the coldest winters on record, averaged $ 89.00 / month! These costs include propane fuel, diesel fuel and an allowance for distilled water (for energy storage batteries) and dry cell batteries for remotes, flashlights and other devices.
Contact
Should you have more questions or you would like to arrange a viewing of this fabulous home and property, please contact:
Rob Koppert, Broker of Record at Royal LePage, R.E. Wood Realty, Brokerage,
55 Brock St. E., PO Box 236, Tillsonburg, Ontario, N4G 4H5
Telephone: 519-842-8418 Ext.213 
Fax: 519-842-4172;
My Cell: 519-532-4355
---
Items Included in Listing of Passive Solar Home at 306 7th Conc Rd ENR, Clear Creek
Passive Solar Home Features Include:
• 2,800 sq.ft. of living space on 1 ½ storey's, 2 + 1 bedrooms, 1 + ½ baths
• Indoor Atrium c/w many exotic plants and flowers
• Full length array of plain, double glazed plate glass 1" thick windows c/w trim and coverings
• Solar chimney c/w auto damper/venting system, plus all interior ventilation ducts
• All circulating fans, ventilation system light fixtures and window coverings
• Interior trim (butternut) on doors and windows, T & G (pine) walls/ceilings
• Custom built stairway, kitchen cupboards and counter tops (water heating)
• 3 Thermal solar cell panels, south facing wall mounted
• 1 main hot water heat exchanger unit for laundry room and shower
• Propane hot water heater for shower and kitchen area (1,500 Watts total)
• Propane and air tight wood stoves in kitchen, fridge and freezer in pantry and kitchen 
• Approximately 10 cords of hardwood from bush cut, split and piled
• Free standing metal stove in LR and air tight wood stove in garage/shop
• Fresh water system reservoir (5,000 gal) and additional piping around entire perimeter of home
• Rainwater collection system and gravity sand filtering equipment and pumps
• Auto door openers (2) and controls on garage doors
• Septic holding tank, bedding system and all related piping
Active Solar System Includes:
• 6000 Watt, 48 VDC photovoltaic (PV) system includes 27 solar panels in 2 arrays, pole mounted in concrete,
with adjustable,manual tracking system. 
• DC/AC Inverter c/w 120/240V 60 cycle controls and distribution panels EAA Inspected & Approved  
• 8 brand new (Rolls Surett) deep cycle, heavy duty, lead acid 6V batteries rated for 20 years service
• Diesel engine (Kubota) driven GenSet rated @ 16 Kw output 
• 1 brand new variable speed circulating fan and controls mounted at ceiling window
• 1 brand new PV solar panel mounted near thermal panels to drive new variable speed circulating fan   
• 27 PV solar cells, pole mounted on concrete slab in two arrays
Items Excluded from Listing (negotiated separately if desired)

• 3 year old Kubota garden tractor and attachments in garage
• Custom built kitchen table and 6 chairs
• Other furniture in home which has not been mentioned above (ie, sofas, bedroom suite, etc.)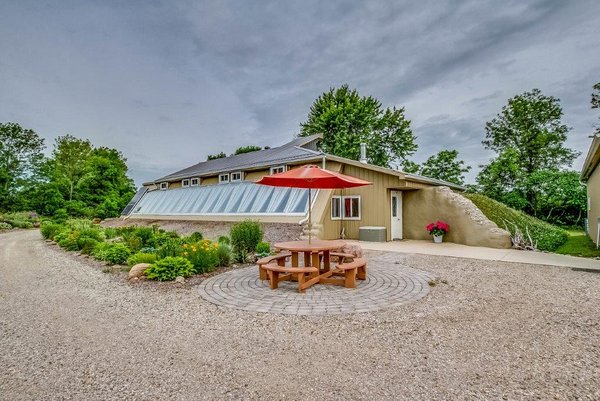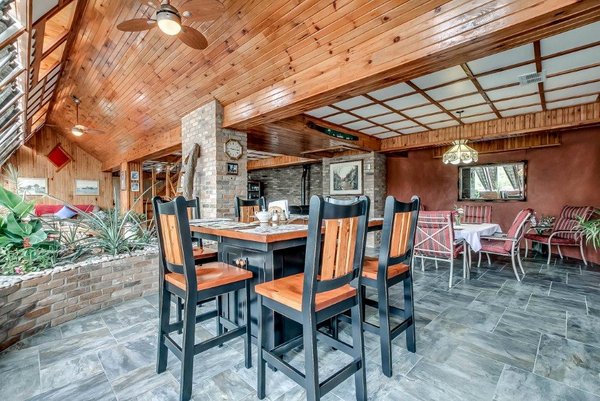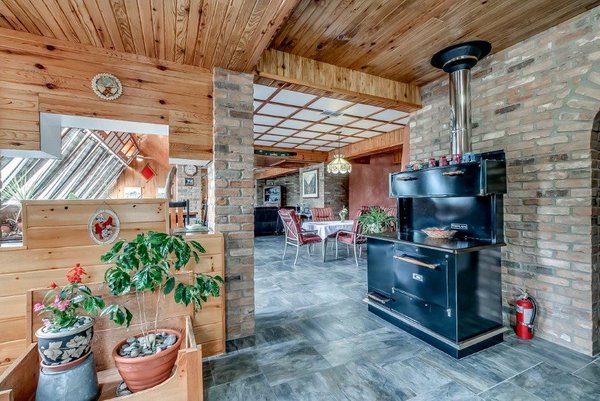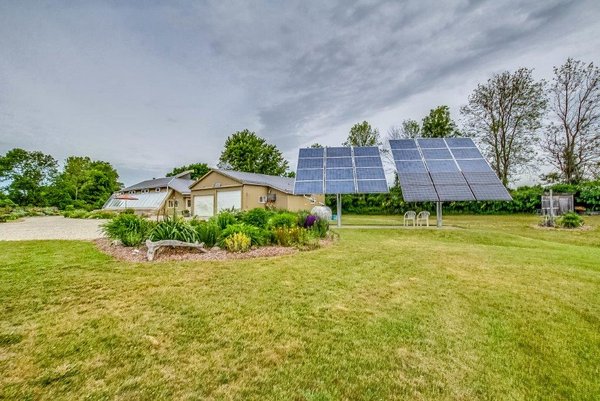 Please indicate that you saw this listing at EcoProperty.ca.