FARM FOR SALE
Certified Organic, Solar, GeoExchange Farm
Beaver Point, Salt Spring Island, British Columbia, Canada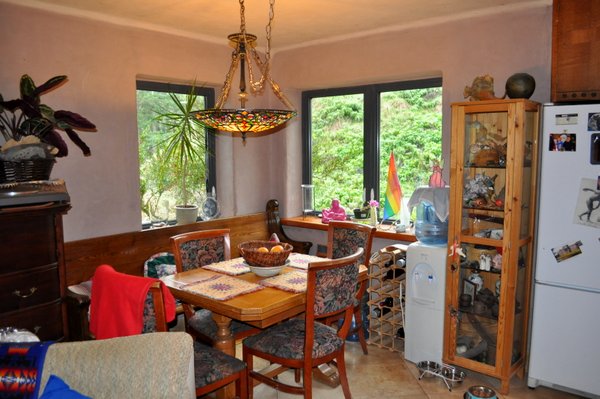 This farm has been producing for six years. The garden has ten individual plots for a ten year crop rotation, In 2013 41,000 pounds of home made compost were spread, plus 30,000 of manure and all sorts of amendments such as peat and alfalfa pellets. There is a 16'x16' mechanical room/workshop, 10x17 green house, 16x80 foot new asparagus patch and a mature 40'x5' asparagus patch, herb garden, grape arbor, two thirteen foot shelves have heated sand beds, 12x8 prep room, 12x8 farm stand, nut orchard and a lot more.
The 1050 square foot home was built as a guest cottage and has 40 solar panels rated to produce 6700 watts of power with two inverters tied into the hydro grid that in 2016 produced more power than it used. The construction of the home R40 insulated concrete walls with the walls and ceiling natural clay finished with American clay done by the "Mud Girls". Flooring on the main is travertine marble and second floor Siberian larch heated with radiant in floor heat. Kitchen cabinets are re-purposed English antique oak cabinats and sideboards, counter tops are Paper Stone (recycled paper with lignins reintroduced, coloured, pressed at 500 pounds pressure and 500 degrees)
The heating system is geo-exchange with eight ton capacity (five ton and three ton pumps) circulating water through five 225 foot water wells which sends water to the house at 83 degrees F. The systenm is designed to heat 5000 square feet. $3 to $4 worth of heat for every $1 spent on electricty to the power system.
Septic designed to accomadtae 5000 square feet of living space.
Please call or email for much more information.
Asking Price: $899,000
Contact Patrick Akerman RE/MAX Salt Spring
patrickakerman@telus.net
250-537-6070
Please indicate that you saw this listing at EcoProperty.ca.