PASSIVE SOLAR HOME FOR SALE
Custom Built Passive Solar Home with Large Organic Garden

188 Paugh Lake Rd, Barry's Bay, Ontario (township of Madawaska Valley, on the west edge of the Ottawa Valley)
Perfect for an almost-homesteader, located on the edge of the beautiful village of Barry's Bay.
House Features
1600 sf bungalow with three bedrooms, two three-piece bathrooms, laundry room, attached garage andworkshop, built in 2010.
Built into the side of a hill; picture a walk-out basement with the roof on the basement. Sun tunnels (domedskylights) bring bright light into the back rooms, as do the huge windows on the south side.
Large adaptable open-concept kitchen/dining/living area.
Uninsulated pantry and root cellar, both accessed directly off kitchen.
No-maintenance roof (metal) and exterior walls: three are buried, and the fourth is CanExel wood/resin sidingwith a 25-year warranty.
High-efficiency Pacific Energy wood stove ('Ardea') with large glass viewing window and unique top 'wings' forcooking or warming food & drinks. Convenient wood storage shelving built into wall beside wood stove. Or heatwith the thermostat-controlled wall-mounted propane furnace in the laundry room, useful for winter trips away.
Drilled well, septic. Curbside garbage and recycling pickup.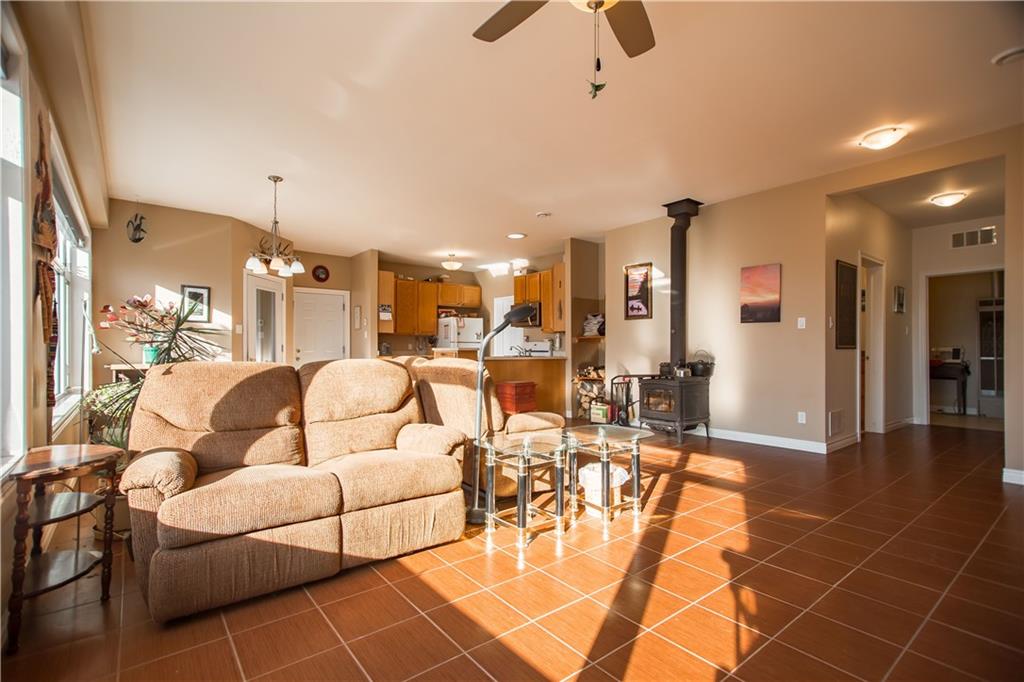 Green Features
Hybrid power: We're hooked up to the grid, but we also have solar panels powering 5 heavy-load outlets, so we greatly reduce hydro bills and have a solar backup if the power fails.
Earth-sheltering on three sides means cooler summers (no A/C needed) and reduced winter heating bills.
Passive solar design: three 6' x 10' south windows bring in winter heat that would normally overwhelm the house, but porcelain tiles on a concrete slab foundation soak up that daytime heat and release it slowly overnight, further reducing heating costs.
High insulation values (R40 walls and R80 attic), mostly thanks to recycled wood fibers. Three of the four outside walls are made from unique Durasol blocks, 80% recycled wood chips held together by Portland cement. The fourth wall is mostly windows, triple pane, low-E coated on two panes, Krypton-filled. Custom multi-celled blinds provide 8 layers of trapped air to insulate the windows at night.
Solar hot water: a solar hot water panel heats the house's hot water all year around, and is automatically backed up by a propane on-demand water heater on cloudy days.
Gravel driveway to avoid oil-based pavement - never a puddle.
Built with local contractors using locally-purchased materials to support the local economy.
Central vertical radon vent to avoid radon buildup below foundation (although this is not a radon-risk region).
Zero-VOC paints and recycled drywall.
Featured in the annual Ontario Natural Buildings Tour five times.
Gardening Features
Forty four vegetable garden beds, mostly 4' x 12', all directly in front of the house.
Twelve of the beds are raised beds, 18" high, local cedar.
Eleven rain barrels are automatically filled with rain water off the roof, six on one side of the garden and five onthe other.
Perennial ready for eating: three apple trees, two pair trees, three cherry tree/bushes, ten haskap (honeyberry)bushes, 50' of raspberry bushes, one red currant bush, one new goji berry bush, seven asparagus clusters, tworhubarb plants.
Three 4'x12' perennial flower beds in front of the south windows.
Winner of Community Blooms 'Best Vegetable Garden in Madawaska Valley' award for three of the last fouryears. (The owner was a judge the 4th year.)
Location
3.5 acres of mixed-wood trees, sloping down to tiny Drohan Lake for beautiful paddling. A stairway (local cedar) leads halfway down, with a path wandering the rest of the way. Deer, fox, beaver, great blue herons and loons have been seen from within 100' of the house.
0.9 km to the main street of Barry's Bay (Opeongo Line, aka Hwy 60), The Beer Store, Valu-Mart (President's Choice products) and of course Pizza Pizza. A further 0.3 km to the post office, bank, drug store, Metro.
Several Algonquin Park entrances within an hour's drive. Also surrounded by crown land and lakes for free camping, hiking, and paddling.
2 hrs to Ottawa, 3.5 hrs to downtown Toronto
Retirement Features
• Absolutely no stairs; a single step outside the front door.
• Extra-wide 36" and 34" doors for wheelchairs and easy furniture-moving.
• Bathrooms with space to turn around in wheelchair.
• Barry's Bay has a regional hospital with helipad and 24-hr Emergency Rm
Detailed Features of 188 Paugh Lake Rd, Barry's Bay
Side and back walls are Durasol blocks

Durasol blocks are like ICFs but made of 80% recycled wood and 20% Portland cement instead of SM-type foam. Like ICFs, they are stacked and then concrete is poured into an inner channel for rigidity; the inner channel also contains rock wool insulation
made in Ontario (Hamilton)
Unlike ICFs, Durasol blocks allow passive solar heat entering the windows to be stored in the thermal mass of the walls (there is no insulating foam between the interior & the concrete).
the breathable plaster I put on the inside of the Durasol walls also allows the recycled wood chips in the walls to absorb excess interior humidity during the day and release it at night (when the air is cooler); this automatic humidity balancing removes the need for a dehumidifier; the Portland cement holding the wood chips together also kills any mould that might try to form on the walls
south wall, mostly glass, is wood-framed.

Passive solar:

large south windows with overhang calculated for best winter and summer sun angles; limited east windows and no west/north windows
thermal mass in concrete floor & side/back walls; American Clay plaster on the Durasol walls transfers the heat from the house to the walls, which drywall wouldn't do

earth-sheltered (2½ sides) to keep house cool in summer (no A/C needed) and reduce heating in winter (outside walls are +10 C instead of -20 C); think of the design as a walk-out basement with a roof above the basement; 'sun tunnel' skylights bring natural light into the back of the house.
2.5 kW solar power with sixteen 400 Ah batteries; we're on the grid so we don't need to run a generator throughout the winter; Hydro bills are $5- 20/month of electricity plus $30/month fixed delivery+debt costs. Solar panels can be adjusted to 30 or 60 degrees to optimize for winter and summer sun angles.
solar hot water, with backup on-demand propane heater
drywall is 90% recycled, made in Montreal
triple-pane windows on fiberglass panes, two low-E coatings, Krypton-filled in both gaps, low-U, high-SHGC (solar heat gain coefficient), high-VT (visual transmittance); Ontario-made by Fibertec
window insulation is two sets of double-celled blinds, resulting in six static air gaps (plus the two in the windows)
attic insulation is blown-in cellulose, R80 settling down to about R66
wall insulation is R44 (above grade), R32 (below grade). The south wall is insulated by soy foam & polyiso; the other walls are insulated by rock wool(Roxul) in the Durasol blocks and SM on the exterior
slab insulation (under concrete floor) is R16, 4" of SM; the perimeter of the foundation also has an extended 'umbrella' of 4' wide sheets of 2" SM buried horizontally a foot under the ground, known as a frost protected shallow foundation.
Built with local contractors using locally-purchased materials to support the local economy.
$530,000.
For Additional Information and Photos :
https://www.realtor.ca/real-estate/22554147/188-paugh-lake-road-barrys-bay-barrys-bay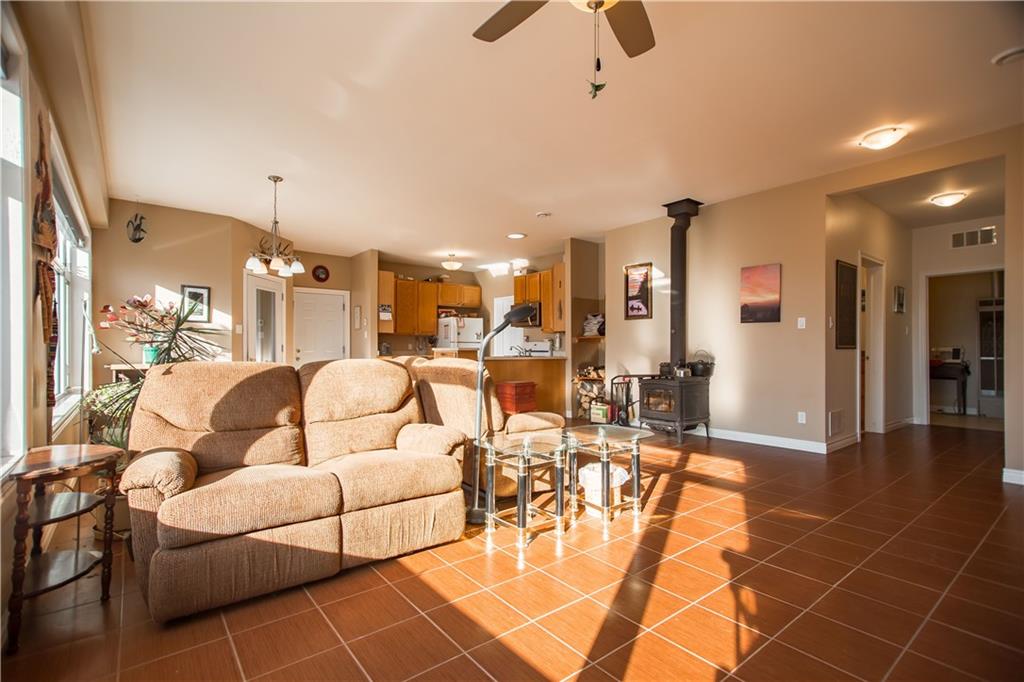 Please indicate you saw this listing at EcoProperty.ca.

Note: This posting is provided on an "As Is" basis and for general informational purposes only. People and Planet (also known as "EcoProperty") is not responsible for the content, accuracy, timeliness, completeness, legality, reliability, quality or suitability of this posting. We do not screen or endorse the organizations or individuals involved. If you decide to accept an offer of employment, volunteering or any other arrangement, you do so at your own risk and it is your responsibility to take all protective measures to guard against injury, abuse, non-payment or any other loss. Please read our full Terms & Conditions.
Current status: Open/apply now. Date posted: Nov 19 2020 ID: 57947