FARM FOR SALE
10 Hectares Mountain Permaculture Farm
Nangora, Malacotos, Loja Province, Southern Ecuador, South America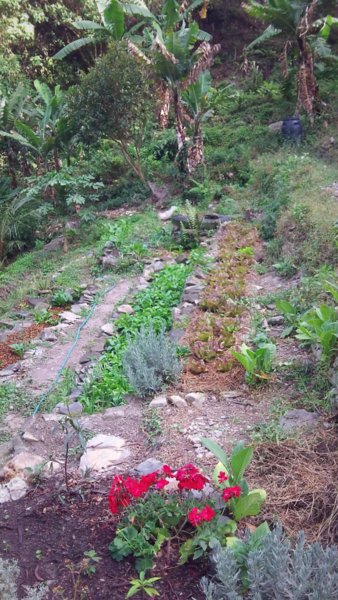 10 Hectares (24.7 Acres) of Land for sale in Nangora Ecuador, a short 30 minute hike from the Pan-American Highway, with a partial roadway and the possibility to finish the road all the way to the Farm. To the north its a 30 minute drive to Loja, the music capital of Ecuador and to the south a 15 minute drive to the Large Valley Town of Malacotos and another 15 minutes to drive to Beautiful Vilcabamba which boasts one of the largest expat communities per capita in the entire world.
The Land borders the Pordacarpus National Park and is tucked in a pristine mountain valley in the Andean Cloud Forest. Artisan springs, its own water fall and brooks of fresh water pour down the hillside joining to a stream that is the Farms border at the base of the mountain. Fruit Trees and garden Terraces dot the hillside growing all year round in this perfect spring like weather. Great for Row gardening, terrace gardening, and a food forest to feed your family and friends with Organic Produce. Ancient stacked rock terracing, An old stacked rock Cistern, and an ancient roadway leading to another larger waterfall proves people lived here long ago.
Multiple building sites already dug and ready for construction with other areas ready for anything you can dream up. Eucalyptus Trees, Bamboo, Red and Blue Clay, River and Mountain Rock abound to provide natural building material for sustainable construction from Stick Built, Mortared Rock, Earth-Bag to Adobe let your imagination run wild.
Current Buildings — include a Stick Built Community Bunk House that sleeps 8... 4 on a covered Patio and a Bedroom that can sleep 4 more if two bunk-beds were built. Attached Mortared Rock Kitchen and Dining area and Covered Storage / Workshop with 9ft ceilings allowing for most any type of carpentry. Detached Outhouse and Shower, Duck and chicken House with a large pen that can house over 50 chickens / Ducks comfortably.
The Water System — gravity fed by a small Waterfall located on the farm giving clean mineral rich water year round. With a Large water-tank onsite for sprinkler use, and Aquaponics gardening. Multiple Springs can be tapped for Ponds, Swales, Fresh water shrimp, Trout and Tilapia. The river at the base of the mountain is perfect for Hydro Electric Power.
The Garden — Stacked Mountain Rock Terraces (Sun / Shade) Raised Bed Gardens filled with nutrient rich soil, perfect for your Vegetables, Herbs and Legumes. Large row gardening field for animal feed and larger vegetable types. An 8 year old Food Forest with a large variety of Fruit bearing Trees.
There are all types of trees, Herbs, Medicinal and Decorative plants through-out the Farm. 3 types of Banana, Pistachio, Macadamia, Black Walnut, Fig, Coconut Palm, Date Palm, Avocado, Orange, Lime, Manderine, Papaya, Custard Apple, Tree Tomato, Black Berry, Inca Berry, Mulberry, Soap-nut, Naranjilla, Sage, Coffee, Jack-fruit, Pigeon Pea, Lavender, Lemon Grass, Peach, just to name a few.
The Land is perfect for WOOFing, Intentional Communities, Large Families and Friends. All the Landscaping has been done by hand and over 30,000 man hours have been put into this project in the last 8 years. Roughly 4 Hectares are terra-formed and 6 Hectares are Natural and Raw. No Chemicals or Pesticides have been used before or during our time here. Your imagination is your only limitation.
Isaiah 25:10 says it best: For in this mountain shall the hand of the LORD rest.
Asking Price: $175,000
Please contact via email:
gringoincognito@gmail.com
Please indicate that you saw this listing at EcoProperty.ca.