*** SOLD ***
Adela Share and House for Sale
House and Co-op-style 38 acres
Silverton / Central Kootenays, BC
$239,000
Well-built, 2200 sq ft 2-storey home, 1.5 kms south of Silverton, with lake and mountain views from every room. 3+ bdrms, 1.5 bathrms, bright open-concept living/dining/kitchen area.  There is a large pantry and a muck-room with plenty of storage space.  A 17x14 room on the main floor would serve well as office, family room or guest suite.  Present owner heats with wood, although there is area-controlled electric base-board heating throughout.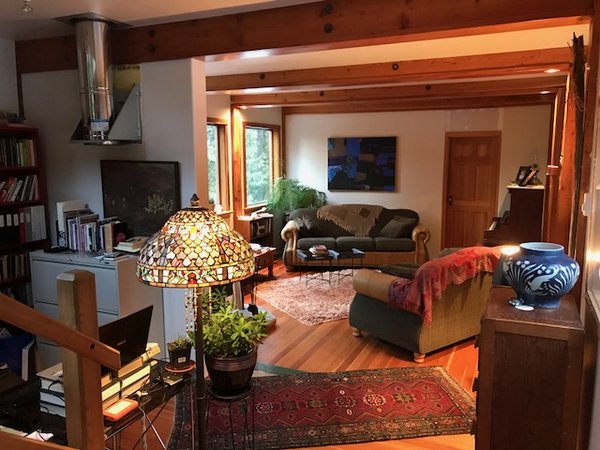 The house setting on this 38 acres is very private from the other 3 homes here.  The property is on a bench 200' above Slocan Lake.  Hasty Creek runs through the property, providing ample water and pressure for domestic use and irrigation to large garden allocations for 4 households. The fenced central common area is a gardener's paradise. Electric fencing protects veggies, berries, apples and plums from deer and bears. There is lots of eco-friendly gardening expertise to share here if you are interested... and no mosquitos!
Firewood is plentiful nearby – fir, hemlock and larch. A community forest management group (SIFCo) stewards the surrounding Crown land, so it is managed to the highest standards, including wild-fire mitigation treatment of some lands adjacent to this property.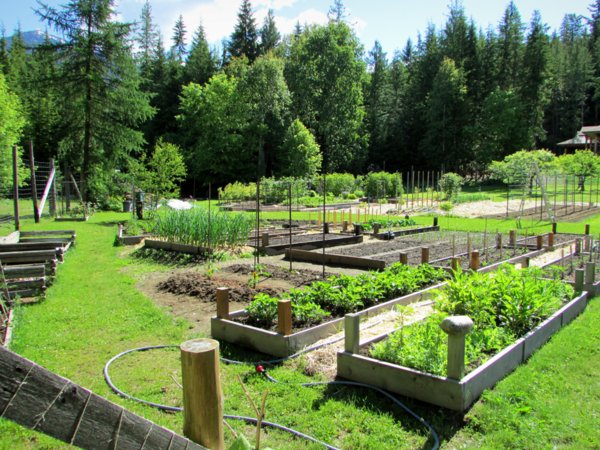 Organizational structure:
This is a co-op style property. The organizational structure is a Corporation, which holds the land title, and individual ownership is reflected in shares and Share Certificates. (This property does not qualify for a conventional mortgage – see Purchasing, below.) Owners have equal shares, and decision-making is done by consensus. Our Land Use Agreement is based on principles of mutual respect, cooperation, respect for the planet, and a shared desire for peaceful living. We aim for autonomy and a comfortable degree of community since we often work together on fences, snow removal and other duties, equipment sharing and some decision-making.
Other details about the property:
All utilities are underground, with no overhead wires. Internet connectivity, speed and cell service are excellent. The property is in the Fire Protection Area of Silverton, so the house is fully insurable.  Our homes qualify for the Property Tax Home Owner's Grant for primary residences.
Access lanes are excellent and maintained by the land-partners. All-wheel drive is recommended for winter.
Although we have not produced hydro-electricity for over a decade, most of the infrastructure for the hydro system is intact, with sufficient year-round flow for the 20KwH system that was operational here. It would take some funds to restore this system, but the land partners have maintained the hydro license… just in case! (It is an 8", 1800' penstock with 200' of head.)
Outbuildings with this home include a woodshed (holds 7 cords) with an attached chicken coop. The large outdoor run is covered so chickens have access to outdoors almost year-round, safe from birds of prey.  An electric fence effectively dissuades bears, bobcats, cougars and coyotes.
The area:
Slocan Lake and the surrounding mountains provide endless opportunities for world-class sightseeing, hiking, road and off-road cycling, canoeing, kayaking, fishing and back-country skiing for every skill level – all just minutes from your doorstep. Historic rail-lines are now popular hiking and cycling trails, and are groomed all winter for cross-country skiing.
Nearby communities and amenities:
The villages of Silverton (pop. 250) and New Denver (pop. 400) are 1.5 and 6 km to the north, respectively. Silverton has an excellent building supply store and a great cafe. New Denver has a credit union, post office, liquor store, health center with 24/7 emergency, K-12 school, excellent grocery stores, cafes and gift stores, all trades services and much more. The demographic includes families with deep roots here, a large influx of American and other young people from the late 60's and 70's, and a more recent influx of back-to-the-land and urban refugee folks, from retirees to young families. Extra-curricular opportunities of the highest calibre in fine arts and sports/recreation abound for children and adults, as does volunteerism and social activism.
Local culture:
There are always interesting events going on in Silverton and New Denver, from fun community events to high calibre arts performances. The Silverton Memorial Hall is an excellent performance venue with a new grand piano. The Valhalla Fine Arts Society runs summer arts programs in music, theatre and dance. The annual Hills Garlic Festival in New Denver is attended by 4000-plus folks from far and wide. A vibrant Friday market in New Denver features locally grown produce and the work of area artists and artisans. The city of Nelson (pop. 15,000) is only an hour away. There is an excellent independent local newspaper (The Valley Voice).
About the land partnership and partners:
Approximately 1/3 of our 38 acres is bench-land and half of that is developed to some degree, while the remainder is forest. The developed areas are very well-maintained. Our 3 homes are situated around a common gardening area, but separated by trees and distance for privacy and quiet. One of the original land-partners who helped develop this property over the past 40 years has a partially developed lot here and intends to build, but so far resides in Silverton. He spends half of every year growing everything he can here, and back-country skiing at every opportunity through the winter months. Another original land partner is a single gal who is now tiring of the rigours of rural life and plans to sell soon. The third land partner built a home here 7 years ago with her new husband; both are also exceptional gardeners.  The present seller purchased here 10 years ago, but split with his partner since then and has now reluctantlydecided to let go of this property.  
The Adela mantra has been "community with autonomy", although the only expectation we have of each other is respect, common courtesies, and cooperation in the tasks we need to work together on.
Becoming a land partner:
We would want any new land-partner to share our respect for the land, respect for fellow humans and other creatures, and to value peaceful co-existence in this beautiful place. If you think you are a good candidate, we would like to get to know you, and for you to get to know us, before a sale is finalized. A live-in trial period can be arranged for up to 3 months (the seller will find alternate accommodations). If a live-in period is not possible, we would need to agree on other vetting arrangements, such as a series of social visits and meals together, or a couple of week's holiday here on the property – whatever it takes for everyone to determine if this is a good fit.
Purchasing
Your purchase gives you a one-quarter share in Adela Holdings, which includes full ownership of the house and all other improvements on the Lot that is associated with your shares, exclusive right of use of that Lot, as well as joint ownership and use of the commons – all subject to the terms of the Shareholder's Agreement. The Shareholder's Agreement states that "The Company holds the lands as Trustee for the benefit of the Shareholders as the beneficial owners of the Lands…" and clearly defines the rights and obligations of the land-partners. The four shareholders (whether they are individuals, couples, or otherwise) each have one-quarter share in the Company.
Conventional financing is not available for this type of ownership structure.
The sale will be handled by the seller's realtor. The sale would be effected as a typical real-estate sale. An offer would be made with a deposit and with any conditions the seller chooses. A unique and perhaps final condition here will be "Subject to the Buyer's satisfaction with the outcome of the vetting process".
Seller: Clarence denBok 250-551-6129 or 780-217-6189
Email: clarencedbk1@gmail.com
Realtor: Bill Lander 250-551-5652 Coldwell Banker listing: TBA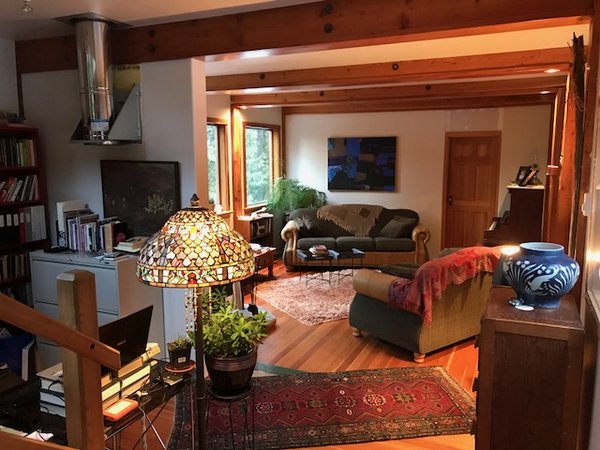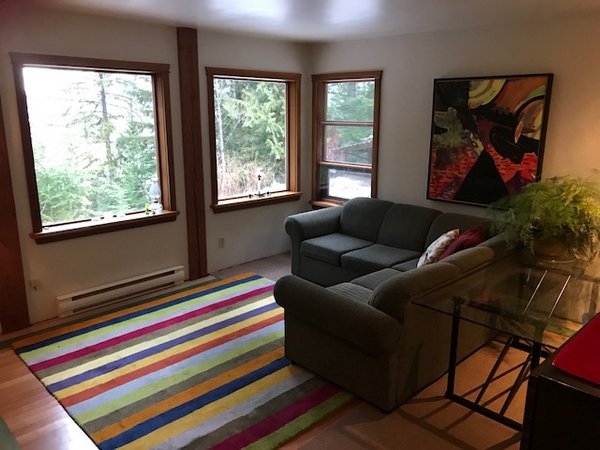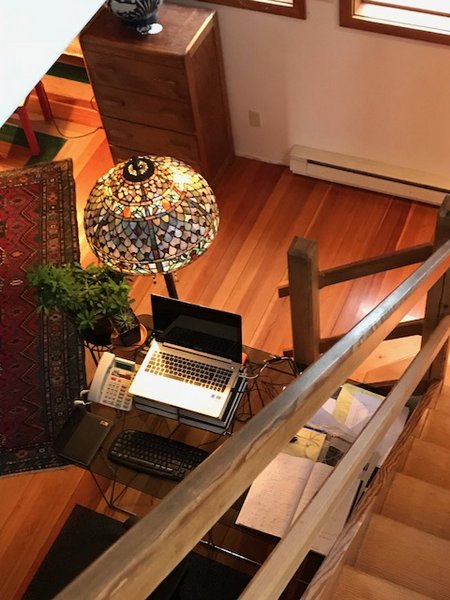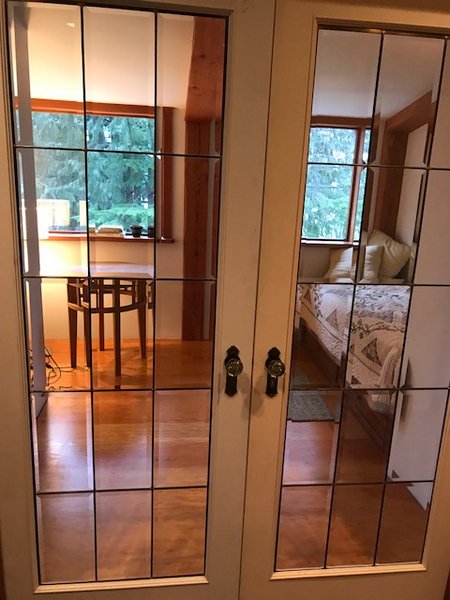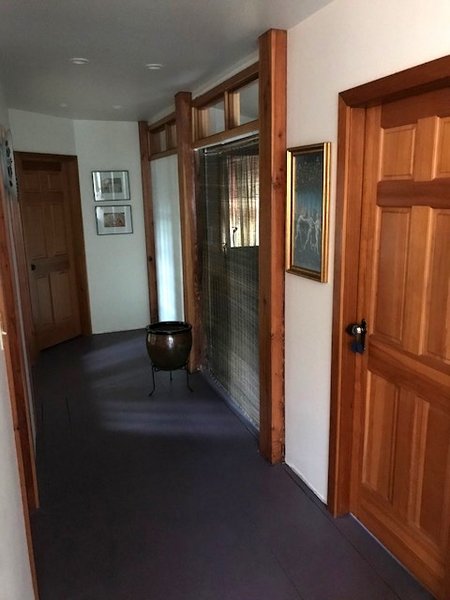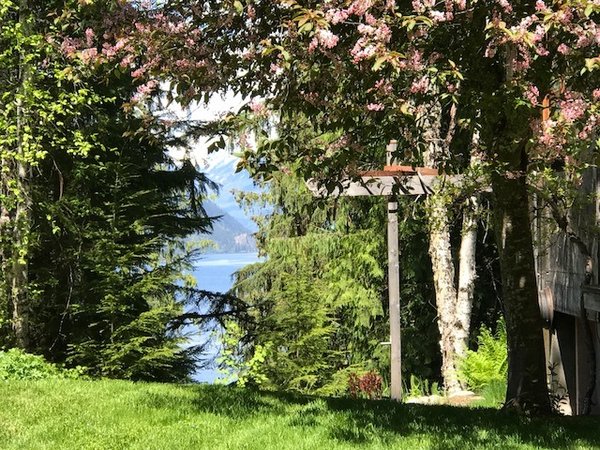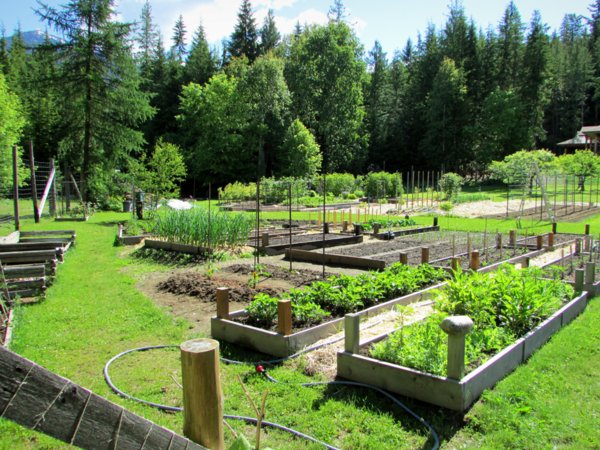 Please indicate that you saw this listing at EcoProperty.ca.