ECO HOME FOR SALE
Custom designed ecologically sustainable post and beam DISCOVERY DREAM HOME For Sale!
698 Moffat St., Pembroke, Ontario, Canada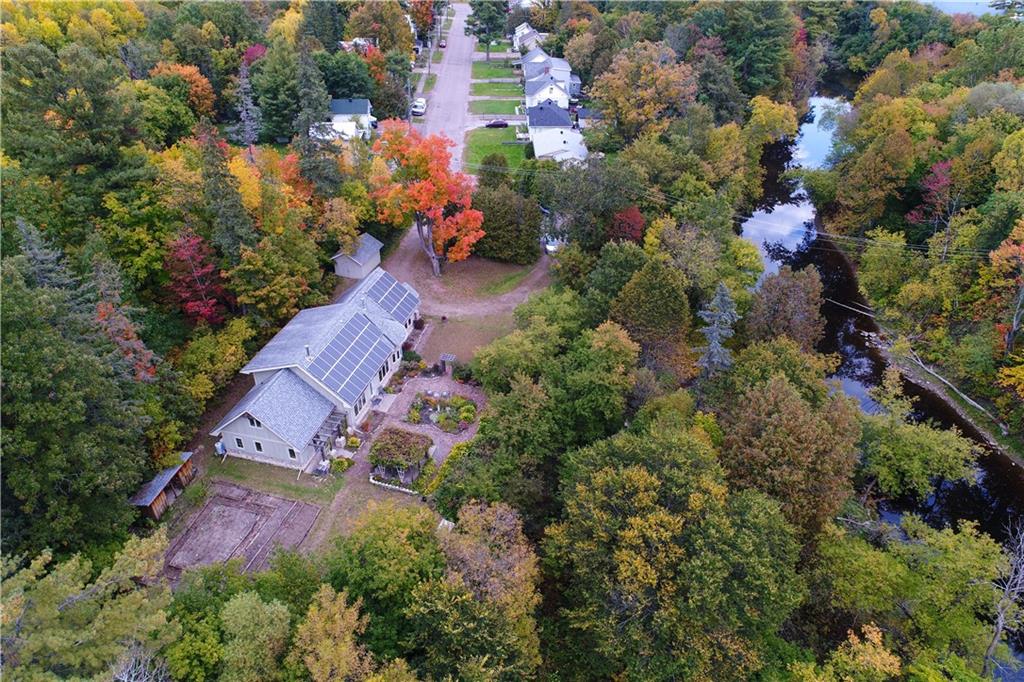 Description:
Custom designed ecologically sustainable post and beam DISCOVERY DREAM HOME located on a peninsula on the Indian River, on a cul-de-sac with amazing privacy and natural beauty in the heart of Pembroke. a small town of 15,000. Walking distance to Algonquin college, shopping and hospital. City water and sewer, garbage and recycling pickup give this urban oasis the comforts of the city yet all the advantages of living in the country: gardens, privacy, sustainability, etc. Situated on approx. 2.5 acres on a high plain and a low riverside walkway, backing onto 2.5 acres of old growth pine forest owned by the city of Pembroke. Forest and River pathways make for lovely private walks. Open concept main level with 23ft ceilings and triple pane windows overlooking the lush courtyard. The kitchen features custom cupboards made by the Pine Shop (local craftspeople) & spacious 14'6"x5'4" pantry. Main level also features a separate curved eating area with Valor Alhambra gas fireplace, Pacific Energy woodstove in living room with granite stone backing and a unique wood delivery system and wood closet. 2 bathrooms on the main level, one 4-piece with a 4ft wide shower, laundry and the beachcomber hot tub is just outside the door. 3 Bedrooms on the main level including the primary bedroom which features french doors to patio/arbour and walk in closet. Main level also has an office with floor to ceiling shelving. Upper level consists of 2 loft areas with solid 4" pine staircase in centre and built-in window seating. 4th spacious bedroom located on upper level, overlooking garden and pine forest. Don't miss out on this once-in-a-lifetime opportunity!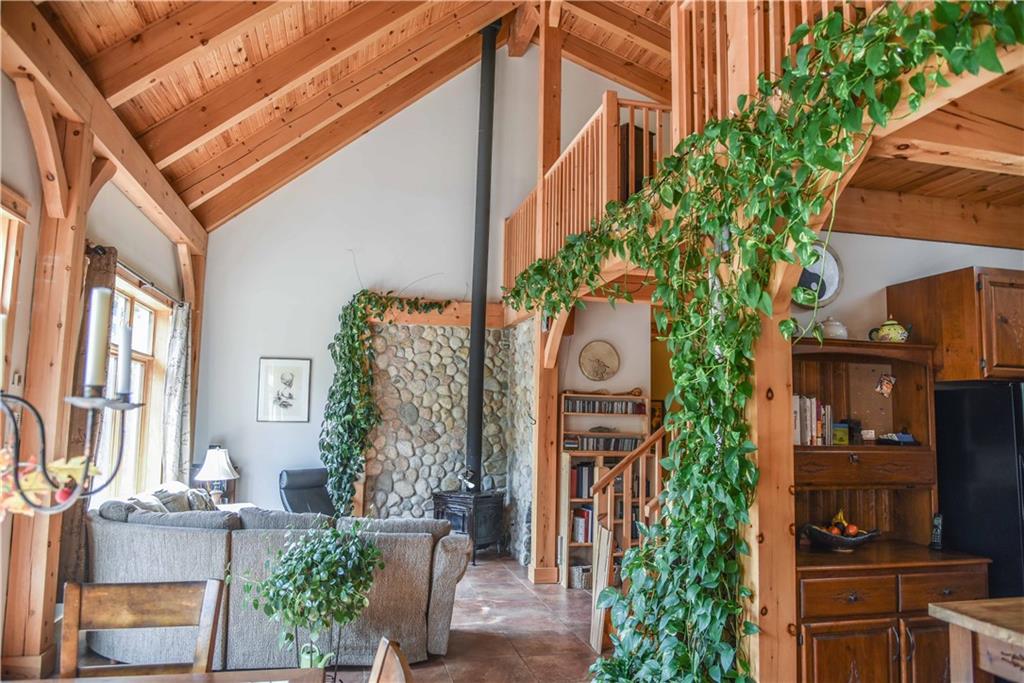 Green Home Features:
80ft of South oriented triple pane glass allows heat to enter house in winter. North facing triple pane glass is gas filled to prevent heat loss.
Super insulation using SIPS (Structural Insulated Panels) in walls R38 and ceiling R48 forming envelope around post and beam construction so there are no heat transfer bridges.
East Wing is traditional 2 x 6 construction.
In floor heat with several zones so you can adjust each room's heat (heat rises).
Ductless Mitsubishi a/c high in loft (cool air falls to main floor). Ceiling fans (reversible) in all main floor bedrooms and in loft area.
Built on 'floating' slab with reinforced rebar (like a bridge is built). Ceramic tiled floors on 6" insulated slab are cool in summer and heated in winter and act as heat sink.
Passive solar gain in fall/winter/spring is exceptional. Shading in the summer from the deep eaves lets little sun in during the peak summer months.
Solar panels on the 'right declination' roof pitch produce 10kwh at peak providing average revenue of $ 800 CAD per month directly deposited to your account.
11 years left on microfit government contract then meters allow for net metering...no electric bills ever again! Hydro and Heat $2027/2019 year (5 adults).
5 of the 7 doors are designed for air lock (a second set of doors) allows the cold/hot outside air not to enter the house each time the outside door is opened.
Open concept provides exceptional air flow supplemented with HVAC filtering system.
750 sq ft Vegetable & Herb gardens and grape arbour/picnic shelter.
Perennial gardens with several dozen species of plants and bushes creating privacy, beauty and a haven for birds and people alike.
On north side 2.5 acres of old growth pine forest (city property) provides shelter from north winds in winter.
Wild meadow by the river has natural beauty with a blanket of wild phlox & forget me not, and some rare varieties of edibles including gallons of fiddleheads each spring and an asparagus garden.
Hostas propagate and come from 100 year old root stock. Grape arbour is also a picnic shelter: a cool shady spot in summer.
Old maple tree shades house on east side without hampering the solar panels facing south
Not paving the roundabout driveway is an eco feature preventing more run off into the river.
All posts and beams are Ontario White Pine.
$689,900
For additonal information:
https://www.realtor.ca/real-estate/22424935/698-moffat-street-pembroke-pembroke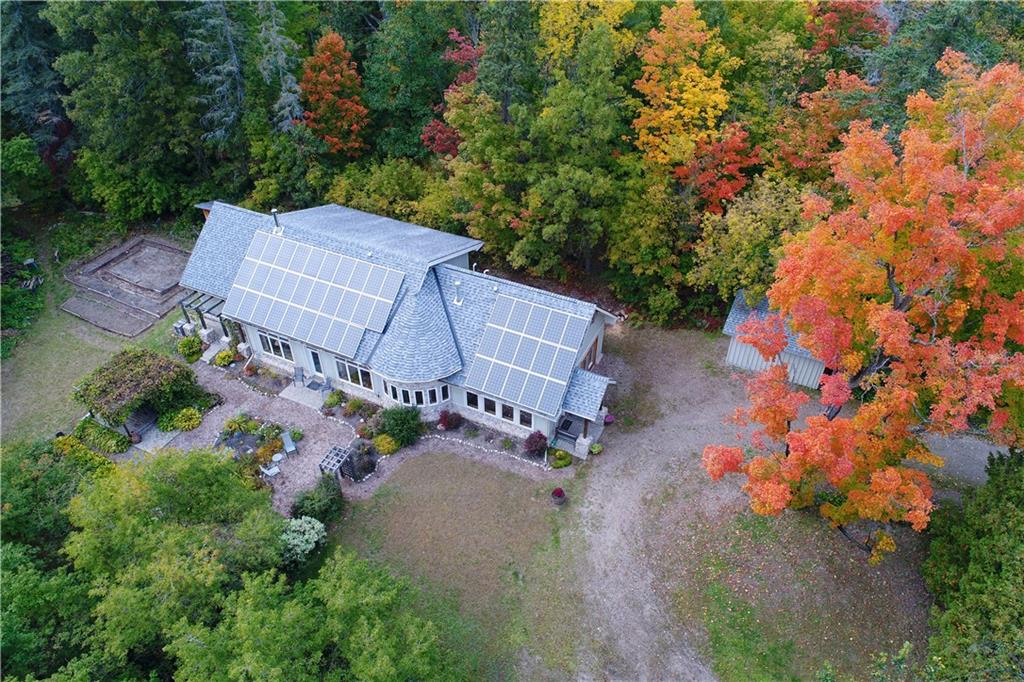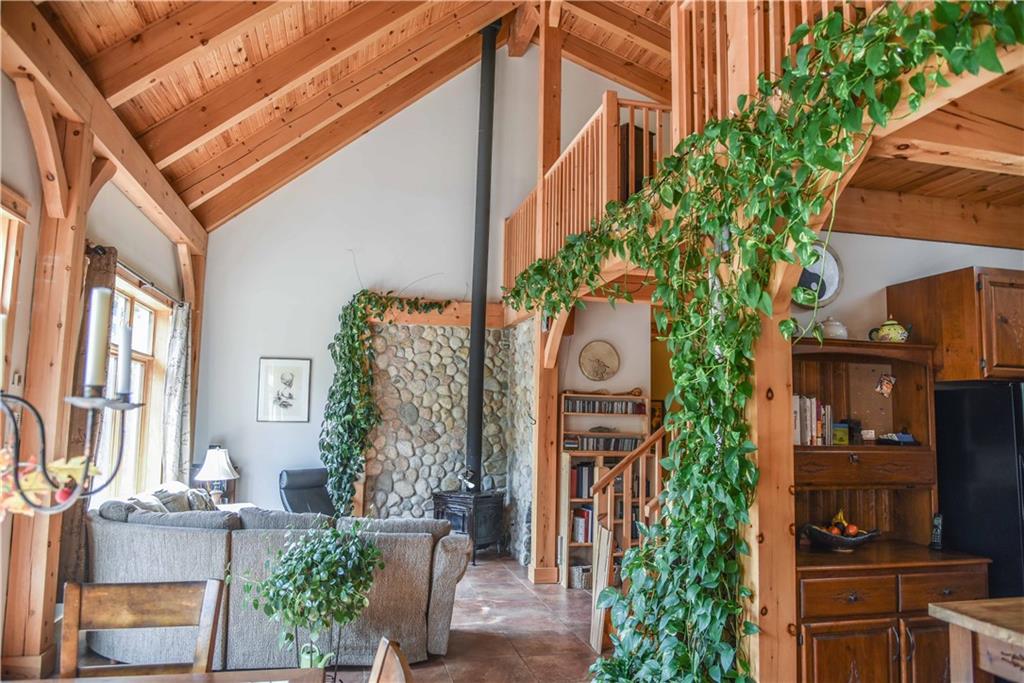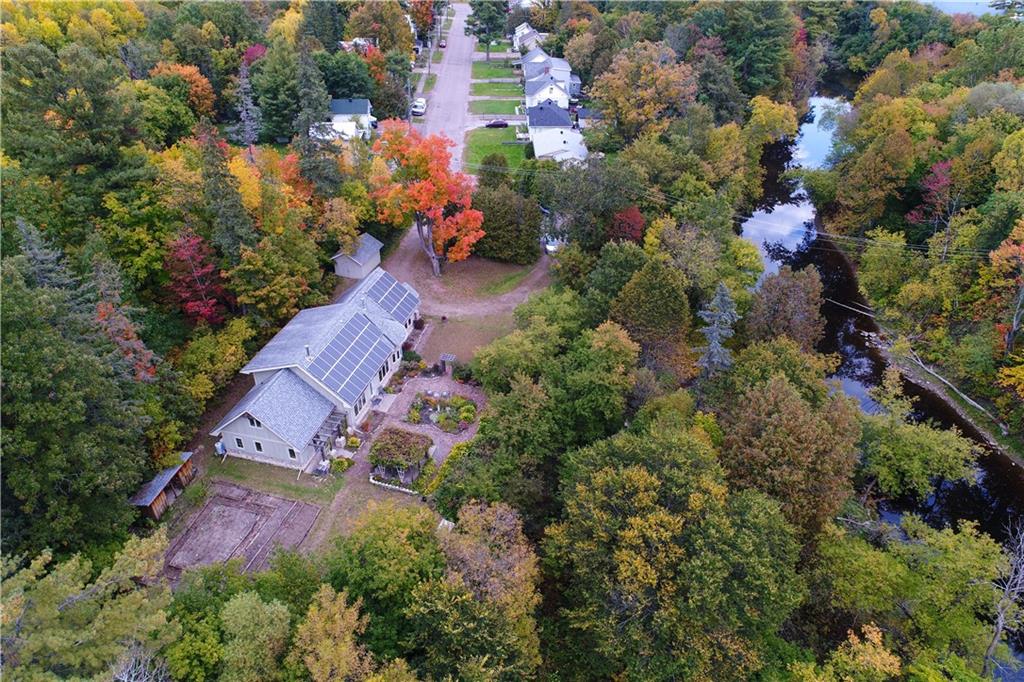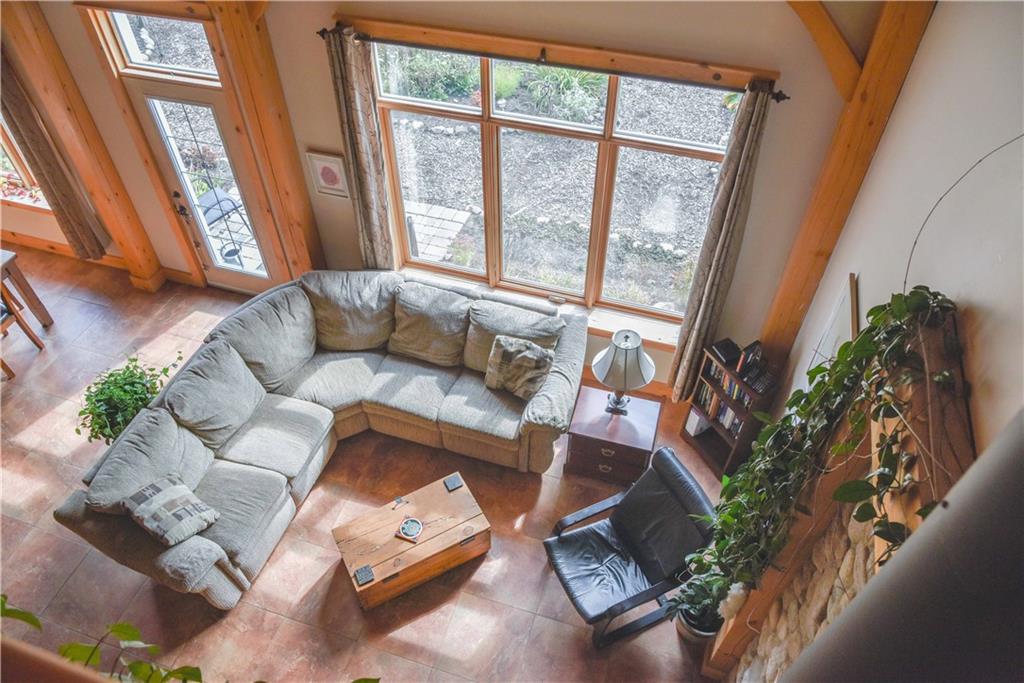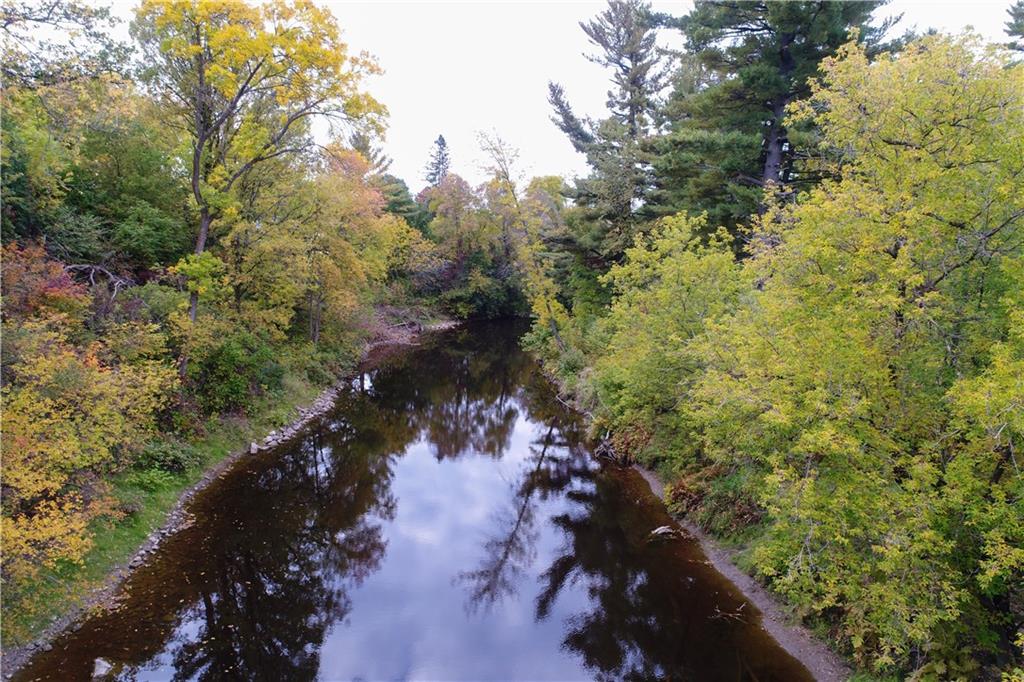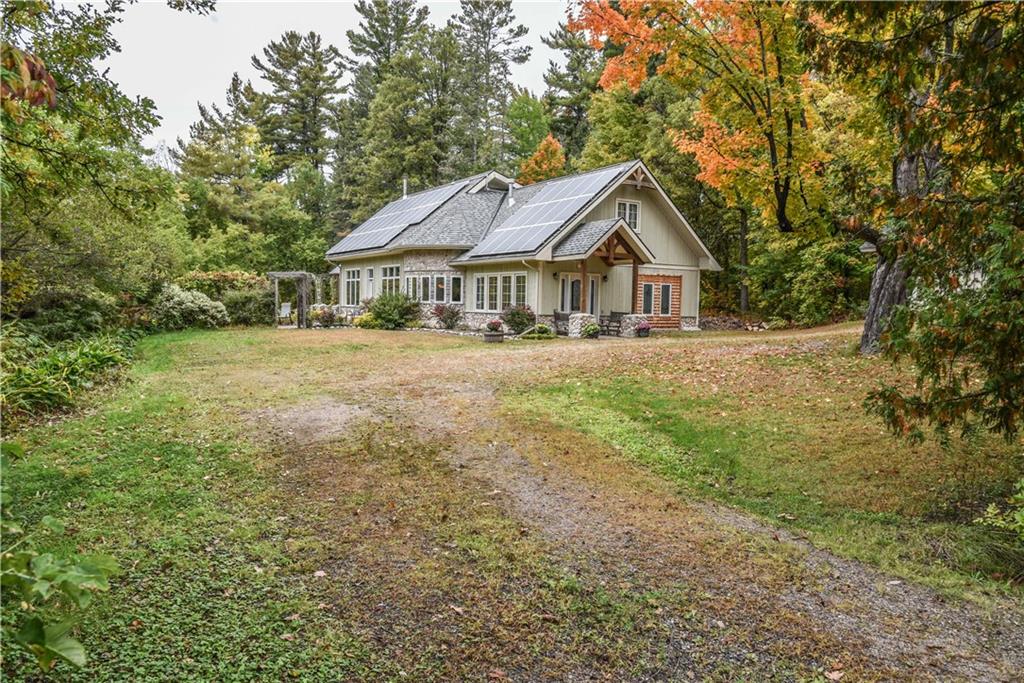 Please indicate you saw this listing at EcoProperty.ca.