ORGANIC FARM FOR SALE
Gorgeous Certified Organic Gulf Island Farm
& Vineyard Properties For Sale
Lasqueti Island, Gulf Islands, British Columbia
Elderberry Lane Farm & Vineyard is Certified Organic and Certified Demeter by the Biodynamic Agriculture Society of BC. Owners are selling the core 30 acre farm and vineyard with agri-tourism (residence, barns and infrastructure included), as well as a separate 11 acre Certified Organic/Demeter farm site (no buildings).
Lasqueti Island property is ideal for self-sustained, off-grid living. Zoning allows for the building of one house and one guest cottage per 10 acres and farming is promoted by zoning.
Properties have Douglas fir, arbutus, cedar and big leaf maples. Plenty of annual growth to provide a continuous supply of wood.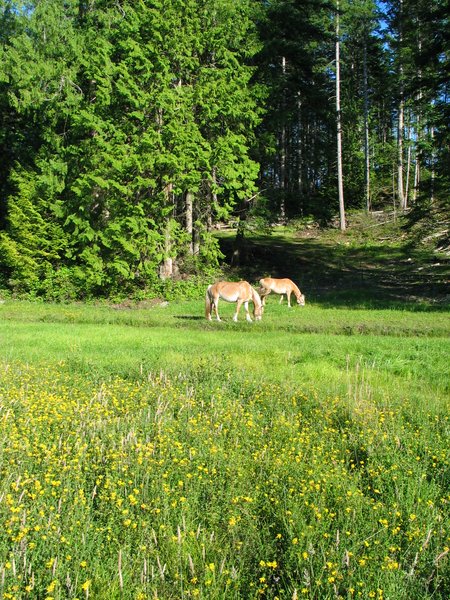 * The 11 acre farm site already has a level driveway to a sunny plateau where you will enjoy the easily accessible building site and pond with micro-hydro spill-over already in place. Plan your wrap-around deck and picture windows and enjoy the lovely nature valley view. Year-round water holding ponds with protected gardening spot ideal for blueberry production, farm yard and grazing pasture already in place and in use by the ELF cows.  This lot is bordered by 320 acres of ocean front Crown Land.  Hiking and bicycling trails for many KMs through Crown Land.
---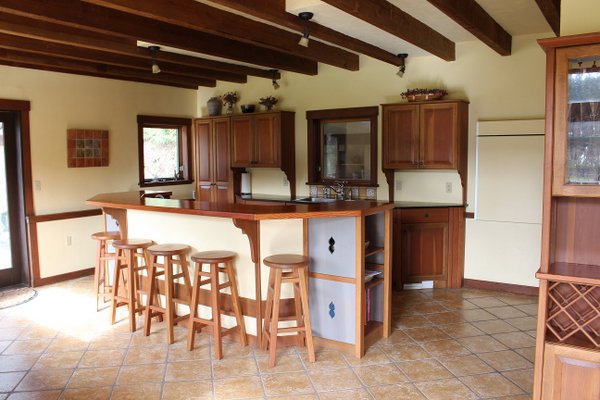 * The 30 acre farm & vineyard comes with a euro-eco built farm house with multiple kitchen prep areas and tasting bar and separate to the home are the agritourism studio and rental, barns, winery building already in place. High volume creek, reservoirs and irrigation and power licenses with the province make this farm a very desirable opportunity in the Gulf Islands. The farm and home living areas are run on alternative energy with solar array and high volume micro-hydro system on the farm's own creek. Large diesel generator with power house for shoulder times and higher demand activities. Seton engineered wood boiler supplies hot water and radiant heat to both buildings with kitchens. Multiple pastures, mature orchard and vineyard are in place with additional prepped areas for expansion. Extensive wood lot included. Farm has valley bottom land, terraced vineyard and mountainside ocean view look out above. Beautiful permaculture designed farm and vineyard. Very unique vineyard offering truly organic management and mature vines that have developed disease resistance through bio-dynamic practices.  See http://www.elderberrylanefarm.ca for more details.
These farms are both contiguous to 320 acres of ocean front Crown Land offering plenty of hiking trails, beachcombing and equestrian opportunities.
Lasqueti Island is a secluded, off-grid island located within the Strait of Georgia about 50 miles West of Vancouver. The island is accessed by regularly scheduled passenger/light cargo ferry & barge service from French Creek (Parksville/Qualicum area) on Vancouver Island.
Island residents strive to live a self-sufficient lifestyle and produce their own power via micro-hydro, solar, and/or wind mechanisms. Phone and internet services are available. On island, you will also find a school, health centre, post office, community and arts centres, volunteer fire department, a restaurant/pub/hotel with a gas station, a small café/grocery, a provincial park and nature reserves, and a farm & feed supply store. For more information about the island and its community please visit:
http://www.cookingandcommunitylasqueti-island.com/index.html
And for the farm and vineyard and more information and pictures on these properties see:
http://www.elderberrylanefarm.ca
Contact us by email:
elderberrylanefarm

lasqueti.ca*
or tel. 250-333-8536
Please indicate that you saw this listing at EcoProperty.ca.
*Email: The e-mail address above has been masked to prevent spam. Please copy the address or type it manually, add the @ sign, remove "mask" and any spaces.