ECO-BUILDING LOTS FOR SALE
Building Lots In Waterfront Eco Village
Wolfe Island, near Kingston, Ontario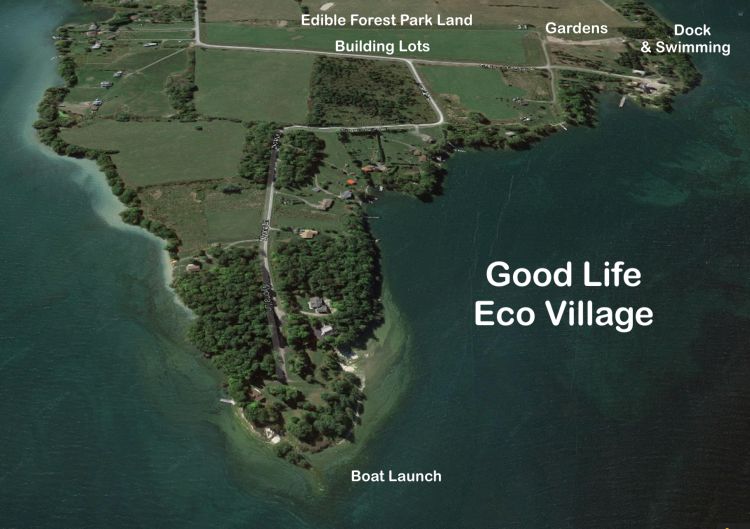 You could live in a Thousand Island Eco Village just a minutes from downtown Kingston!!!
Are you seeking a sustainable, healthy and secure lifestyle?
Are you looking for a vacation experience where you actually live?
ITS ALL ABOUT LIFESTYLE — We have unique opportunity to benefit from the security of living in an community designed for today and tomorrow where you can revel in the freedom of a healthy country lifestyle while enjoying views of the city skyline over the water. An oasis from city life that offers unique qualities that are becoming very rare to find.
BUILDING LOTS — are now available in a planned Eco Village on Wolfe Island just a 15 minute ferry ride from downtown Kingston Ontario or a short 5 minute ferry ride from Cape Vincent in New York State. We have eleven organic 1.5 acre lots available in this unique waterfront eco village. The Village was professionally designed by Earthworks Eco Villages.
HEALTHY LIFESTYLE — This completely organic land has never seen agricultural pesticides and has been owned and loved by one family for over 200 years. These lots will have exclusive access to a private edible forest landscaped community parkland featuring organic garden plots for each family that can help ensure your families food quality and security.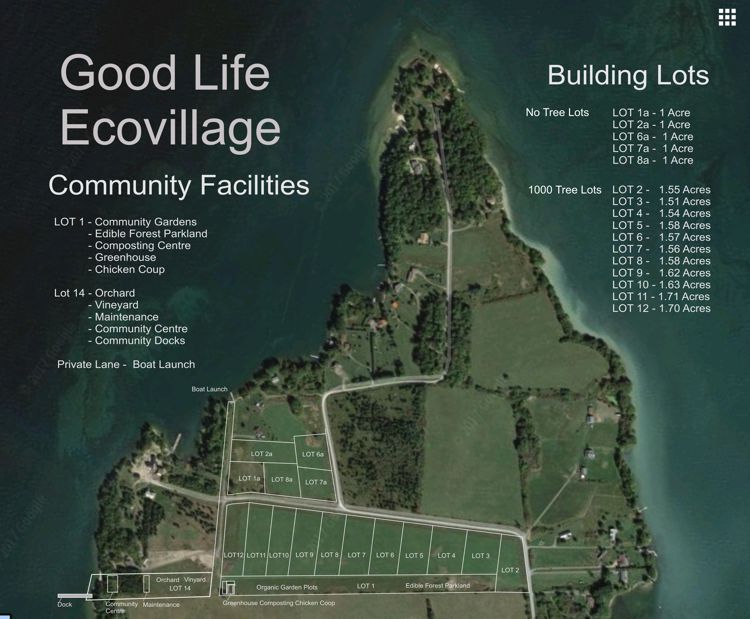 SERVICES — Each lot is easily accessible by a private road with hydro already available to each site. But this site also has unique characteristics that support highly efficient solar and wind energy production that can it can easily provide back up or alternative renewable energy security for the families that live here.
RECREATION — The families in this Eco Village will also have private access to the water including a boat launch and dock and swimming area.
LOCATION — Located on the largest of the Thousand Islands this location is truly exceptional. Nestled into the waters of the St Lawrence River this land features great views with water in all four directions and waterfront access for swimming fishing and boating. The GOOD LIFE ECO VILLAGE is 10 minutes from the town of Marysville right on the Island, which is only 15 minutes by the FREE FERRY to DOWNTOWN KINGSTON Ontario. Wolfe Island is also only a short 5 minute ferry ride to Cape Vincent in New York State.
ECO HOMES — We have eco home designers and builders that have taken a keen interest in this project and will enthusiastically help you create your own high performance and healthy home in this safe and green community. As a resident in the eco village you have lots of options. The talented house builders at Natural Buildings for example have offered to build homes in The Good Life Eco Village that are built with natural materials that are free of the toxic chemicals and volatile organic compounds found in the homes commonly built today. These high performance eco homes are also designed to be highly energy efficient with a very low environmental footprint. Start building your dream home today!
A GREAT DEAL — These lots were appraised at $60k each in 2012 before adding the eco village resource base to their value. With the addition the water access, private parkland, organic garden plots, and community facilities, tree plantings, now each of these lots are worth much more then what they were appraised at five years ago. But now - for a short time 1.5 acre lots in this community will be available for only $59,000 Dollars.
So now is the time to Invest in a sustainable and healthy future for you and your family. Only a dozen families will have this opportunity. So become a member in this exclusive eco minded community that can offer the possibility of extraordinary food and energy security, as well as a truly exceptional quality of life.
CALL US at 613-661-0104 for more information. (developer inquires also invited)
ABOUT THE ISLAND
Wolfe Island has been described as a magical place where time goes by a little bit more slowly, a place where an old fashioned friendly country lifestyle still exists. Somehow, this magic is just a short ferry ride away from "the big city of Kingston" and has so much to offer to tourists, and Islanders alike.
The Ferry Ride from the city of Kingston Ontario is a pleasant if short (15 minute) voyage featuring scenic views of the island as you approach the landing at the island town of Marysville. The ferry runs everyday from 5:45am to 2:00am.
Marysville itself has everything a family might need from its arty and entertaining shopping, and restaurant scene to the practical things like schools, post office, community center, fire hall, emergency services and a medical center.
The Attraction — Islanders may try to keep this treasure a secret, but the word gets out. First time visitors to the Island are surprised to find lots to see and do with many great places to eat and lovely places to stay on Wolfe Island. Events like the Wolfe Island Music Festival, one of the regions biggest summer events, draws thousands of visitors to the Island but most of the time its a lovely peaceful oasis from hustle and bustle of city life.
Beaches — Big Sandy Bay (right off the ferry, left on 95 to Reeds Bay Rd and right onto 3rd Line Rd.): Described as one of the best hidden gems in the area, Big Sandy Bay is a well-loved beach located on the western shore of Wolfe Island. The area is known for rare birds, trees and other unique plant species.
Bird Watching (everywhere!) — Over two-hundred species of birds live on or migrate through the island throughout the year, making Wolfe Island a perfect place for birders. In fact, the island has been recognized by Important Bird Areas of Canada - an initiative that monitors and conserves significant bird habitats. All you need is a good bird book and a pair of binoculars!
Cycling (various routes) — The first thing I was ever told about Wolfe Island was that the cycling is excellent, and it's true. Four main routes have been established through coloured signage. Most of these routes take cyclists away from heavily trafficked areas, making for a peaceful, pleasant tour of the countryside.
Family Fun — The Wolfe Island Corn Maze (right turn off the ferry and up Hwy 95 about 3.2km): This corn maze is a popular destination for kids of all ages, run from the beginning of August to the beginning of November. This fun and sometimes spooky maze offers affordable good times.
Surrounded By Shorelines — The Island is a water lovers paradise with great Swimming, Sailing, Boating and Fishing opportunities all around the island. For anglers the waters surrounding the island are filled with fish of all types and sizes including Walleye, Small Mouth Bass, Pike and Muskellunge.
Water Sport Haven — The legendary winds on the lsland keep smiles on the faces of the many windsurfers and kite surfing enthusiasts.
Golfing (802 9th Line Rd.) — Riverfront Golf Course is a nine hole course designed to meet the needs of seasoned and beginner golfers alike.
History — Old House Museum (Leander Street, near the ferry dock): The Old House Museum is the oldest home in Marysville. The museum is run by volunteers and houses a variety of items from Wolfe Island's history such as stories of the ferry from a captain's perspective.
Wind Turbine Tours (everywhere!) — Print off the Self-Guided Wolfe Island Walking Tour Map and narrative and take yourself and your family on a tour of the wind turbines that populate the west end of the island. Learn about hydro developers, the history of the wind farm, how wind turbines work and are constructed, and much more.
Annual Events:
Chili Festival (Wolfe Island Community Centre): Each year Wolfe Island celebrates winter with this popular chili festival. The day features the annual chili competition, ice skating, hockey and other games, as well as hay rides around the village. The festival takes place near the end of January or beginning of February.
The Race - Wolfe Island Classic (Marysville Village): This 5 and 10km race has been running annually at the beginning of July for 34 years now and goes to support the Wolfe Island Community Medical Clinic. The course is described as "scenic but hilly and challenging".
Music - Wolfe Island Music Festival (Marysville): This ever growing festival has been taking place at the beginning of August for over 10 years now. The party runs over two days and showcases the talents of 20 Canadian bands. Tickets typically go on sale in May and can include camping.
Call Us At 613-661-0104 For Details or email us at:
mygotoexpert@gmail.com
Please indicate that you saw this listing at EcoProperty.ca.